Press
EW Celebrates Hamm's 40th; Vote for Kartheiser and Sommer on Funny or Die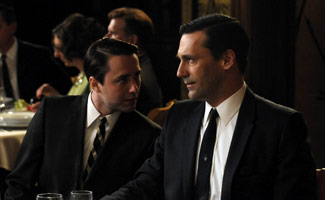 This week, Jon Hamm hits the big 4-0, Vincent Kartheiser and Rich Sommer bring an environmental cause to Funny or Die, and Season 4 Emmy speculation begins. Read on for more!
• EW's PopWatch celebrates Jon Hamm's 40th birthday with a selection of their 40 favorite Jon Hamm photos.
• Mad Men's Vincent Kartheiser & Rich Sommer sit down in 1965
to discuss trains and why we need them. Watch the video on Funny or Die here and vote "funny!"
• The LA Times pundits unanimously agree that Mad Men will be an Emmy nominee for the fourth straight year. Four out of six think it will take home the top prize again!
• Brian Williams of NBC's Nightly News references Mad Men in a segment on the increasing number of women in managerial and professional jobs.
• The Boston Herald tracks down Christina Hendricks and Sarah Jessica Parker on the set of their upcoming flick, I Don't Know How She Does It.
• Metro New York talks with John Slattery [no link] about similarities to Roger Sterling in his role choices outside of Mad Men. There's nothing wrong with that!
• A TV show-inspired dinner menu in The Orlando Sentinel [no link] proposes the following for a Mad Men themed meal: Martinis, iceberg salad, coq au vin, red table wine, scotch, fruit cocktail, brandy and Salisbury steak.
• TV.com references Mad Men in an article about the premiere of AMC's newest show, The Killing, noting that Mad Men is "consistently gushed over by critics."
• John Slattery plays a "stoic and sexy" White House staffer in this music video for The National on hollywood.com.
• Grub Street NY alerts readers (and eaters) to Judy Gelman and Peter Zheutlin's The Unofficial Mad Men Cookbook, "a guide to the food and drink mentioned in the show from Sterling Cooper power lunches to Betty's Around the World Dinner."
Read More