A Toast to the Great Drunk Scenes of Mad Men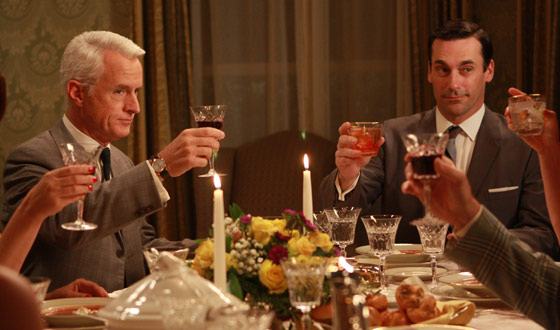 This month has no shortage of reasons to party, with both Fat Tuesday and St. Patrick's Day in line. But the denizens of the world of Mad Men have never needed an excuse to indulge, as they've liberally helped themselves to the contents of their office bars then followed that up with casual drinks before, during and/or after dinner. Keep reading to check out some of Mad Men's most unforgettable moments of inebriation. Is your favorite not on the list? Let us know in the comments section below.
1. Season 1, Episode 7, "Red in the Face"
Roger crashes the Draper household for dinner then drunkenly makes advances on Betty, prompting an angry Don to exact revenge. Don's method? He baits Roger into gorging on oysters, cheesecake and liquor then arranges for Sterling Cooper's elevators to be "out of service," necessitating a hike up 23 flights of stairs. The result? Roger throws up in front of a client. The lesson? Don't try to park in the wrong garage.
2. Season 1, Episode 12, "Nixon vs. Kennedy"
Election night 1960. The rum, scotch, absinthe and creme de menthe are all flowing. Next up? Some office games! Ken downs his drink then chases Allison before pinning her to the ground and pulling up her skirt to reveal her blue panties. Then, a tipsy Hildy and a drunken (married) Harry leave their inhibitions behind…in Harry's office.
3. Season 2, Episode 5, "The New Girl"
Accidents happen when Don and Bobbie head to the beach while swigging from a bottle of whiskey. Indeed, Don loses control of the car and crashes, leaving Peggy to save the day by loaning money for the fine, providing a ride and offering Bobbie a place to stay. "You'll have to believe me that I'll forget this," Peggy tells Don, echoing one of his mantras.
4. Season 2, Episode 8, "A Night to Remember"
Petra Colson (Crab's wife) provides comic relief at Don and Betty's dinner party. "Ladies first!" she cries out as Don takes drink orders. "I have to sit down," she pleads when Betty is introducing her around-the-world menu. The crowning moment? While entering the dining room, Petra walks into a wall. "How did that get there?" she wonders aloud.
5. Season 2, Episode 9, "Six Month Leave"
A not-yet-sober Freddy Rumsen memorably wets his pants then passes out right before the Samsonite presentation. The incident leads to him getting sacked — Roger calls it "conduct unbefitting" — but not before a wild night send-off of drinks and gambling with Sterling Cooper's senior staff.
6. Season 3, Episode 3, "My Old Kentucky Home"
Jane staggers around drunk at the Sterling soiree for the Kentucky Derby. As if that weren't enough, she also drops a plate of food and manages to expose rifts between both Don and Betty and Don and Roger. The solution? Roger asks the room, "Will someone please get her a glass of milk?"
7. Season 3, Episode 13, "Shut the Door. Have a Seat."
In this flashback, Don recalls how an inebriated Archie Whitman set off for Chicago to sell his crop but only got as far as the stable when his horse kicked him in the head. A gruesome end for his two-timing dad. No wonder Don's own son Bobby once told him, "We have to get you a new daddy."
8. Season 4, Episode 2, "Christmas Comes But Once a Year"
Two young women come into a boozing Don's orbit: Nurse Phoebe helps him into bed while firmly fending off his advances; a less-resistant Allison ends up going a lot further after she brings him his keys and a dose of Aspirin.
9. Season 4, Episode 6, "Waldorf Stories"
Former teetotaler Duck gets himself escorted out of the Clio Awards after heckling the emcee ("It's great to see you, I mean actually alive and everything.") but he's hardly the only one getting loaded that day: Intoxicated only in part by his recent Clio win, Don pitches Life Cereal execs with someone else's idea: "The cure for the common breakfast."
10. Season 4, Episode 7, "The Suitcase"
Dreading news of Anna's death, Don gets so tanked that Peggy has to escort him to the bathroom, where he vomits. Later in the episode, after Don loses a fistfight to an also-plastered Duck, a concerned Peggy asks, "How long are you going to go on like this?"
Read More