What You're Saying About Mad Men Writer-Producers Andre and Maria Jacquemetton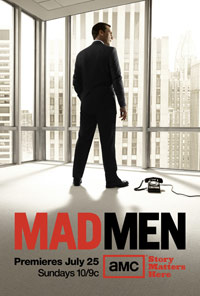 Every week, AMCtv.com honors the Talk forum and blog commenters by quoting them in the weekly "What You're Saying" post, then awarding those who have commented as registered AMCtv.com users prizes like a Mad Men poster or t-shirt (limit one per person).
Husband and wife Andre and Maria Jacquemetton recently revealed to AMCtv.com what it's like to be a married team of writer-producers working together on Mad Men, and shared their insights on balancing work and home. Here's what Maddicts had to say about the collaborative power couple!
• "People say you need to separate your real life from your profession, but both of you just proved that mixing the two can result into one very comfortable (and enviable) result." — Lorna Moir
• "I love your collaboration on the writing of Mad Men…you guys are talented beyond words (no pun intended!)" — Lavender Haze

• "Enjoyed the interview with Andre & Maria very much. Also enjoy their insights on the DVD's. You sound like a wonderful couple." — Kathy
Log onto the Talk forum to join a conversation or start a Mad Men topic of your own. As always, your comments throughout the blog are welcome.
Read More