Uncategorized
Q&A – Aaron Staton (Ken Cosgrove)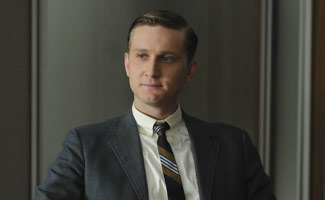 Aaron Staton, who plays Ken Cosgrove on Mad Men, spoke with AMCtv.com about what makes the show unique and how his life has changed since joining the series. A new father himself, Aaron also offers a little fatherly advice for Pete Campbell.
Q: Having worked on Mad Men for four years, what's your impression of the '60s? What have you learned?

A: Season 4 was really the beginning of the '60s as I had thought of them. Outside of some of the major earlier historical events like the Cuban missile crisis, Kennedy's assassination and of course the publishing of [Ken's] "Tapping a Maple on a Cold Vermont Morning," I had thought of the '60s as the birth of hippies and peace signs. Vietnam and the civil rights movement. I wouldn't say it's forced me to learn more about the era, but I would say that it's enabled me to see it through the lens of experience in a way.
Q: Now that you've shot an entire season on the SCDP set, how would you compare it to the Sterling Cooper set?
A: It's a completely different world. Everything about the set is different, honestly. It's smaller, brighter, it's even higher off of the ground. I'm not quite sure why it's higher off the ground actually. Come to think of it I never stopped to wonder about that until just now. Why is SCDP five feet off the ground when SC was flat on the ground?
Q: For you, what was Ken's big moment this season?

A: I'd say Ken's biggest moment was in the last episode when Don, Roger, and Pete ask him to set up a meeting with his father-in-law so they could pursue him as a client. The stakes are that if they don't find a big client the business will probably fail. But the job isn't as valuable to Ken as his marriage. His "actual life" he says.
Q: Did Matthew Weiner give you special instructions for any scene this season? What were they?
A: Something he said about the scene I was just referring to was that it was a completely foreign stance in this world. When I first read it I thought there was a bit of resentment that they would ask it. But Matt said that Ken is confident and firm. Not rattled by it.
Q: How has your approach to Ken changed over the four seasons?
A: I wouldn't say it has, but Ken has. It's a very rare gift to be a part of a show a) that lasts multiple seasons and b) where time and change are what drives it forward. Time moves forward and so do these characters, on a real timeline. As an actor it's a very unique but realistic thing to play a scene or season even without knowing where things will go.
Q: When Matthew Weiner directs a script he also wrote, how does he approach it differently than other directors?
A: I think people sometimes forget that Matt has a background in comedy, and with him it's always easy to find the jokes and humor. Matt has an uncanny ability to write excruciatingly realistic moments, and as a director he twists the knife.
Q: How has being on Mad Men changed your life?
A: It's this sort of heading in a chapter, really. I had my first date with my wife directly following the first table read for the pilot in NY. Had the show never been picked up it would have always been this thing as a part of our story: "Right before I met my wife for fajitas I read through the most incredible script that if it would've gotten picked up would have won a zillion awards." But amazingly it did and here we are in LA five years later with my son sleeping in his room and two SAG awards guarding us all. … I'm just enjoying the moment.
Q: You won those two SAG awards for Outstanding Performance by an Ensemble in a Drama Series in 2008 and 2009. Where do you keep the trophies?
A: They're holding up our ADT signs in our bushes. That way burglars know we're actors. Look for a PGA award, that's where you'll find the good TVs… Really, they're on our mantles.
Q: You've been really busy lately with your new son. Congratulations! What fatherly advice would you give to Pete Campbell?
A: Yes I have, and it's been incredible! Thank you! I would tell him that If there's lead in the paint on his walls to paint over it with low VOC paint. Turns out the lead is bad. And check for asbestos.
Click
here to read Aaron Staton's interview from Season 3 »
Click
here to read Aaron Staton's interview from Season 2 »
Click
here to read Aaron Staton's interview from Season 1 »
Read More