Awards
Mad Men Wins Big at WGA Awards, Picking Up Two Top Prizes for Dramatic Writing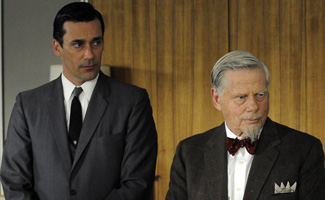 At last night's Writers Guild Awards, Mad Men earned two wins in the top television categories. For the third year in a row, the WGA named Mad Men the Best TV Drama Series, honoring writers Jonathan Abrahams, Lisa Albert, Keith Huff, Jonathan Igla, André Jacquemetton, Maria Jacquemetton, Brett Johnson, Janet Leahy, Erin Levy, Tracy McMillan, Dahvi Waller, and Matthew Weiner. The competing nominees were Boardwalk Empire, Breaking Bad, Dexter, and Friday Night Lights.
The WGA also singled out "The Chrysanthemum and the Sword," written by Erin Levy, as the Best Episodic Drama, beating out episodes from The Good Wife, House M.D., and Breaking Bad.
Below is a partial list of the Writers Guild winners for 2011. For a full list, visit the WGA Web site.
Best Original Screenplay: Inception
Best Adapted Screenplay: The Social Network
Best Documentary Screenplay: Inside Job
Best TV Drama Series: Mad Men
Best TV Comedy Series: Modern Family
Best New Series: Boardwalk Empire
Best Episodic Drama: "The Chrysanthemum and the Sword," Mad Men
Best Episodic Comedy: "When It Rains, It Pours," 30 Rock
Read More