What You're Saying About Mad Men's WGA and ADG Victories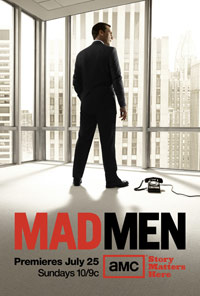 Every week, AMCtv.com honors the Talk forum and blog commenters by quoting them in the weekly "What You're Saying" post, then awarding those who have commented as registered AMCtv.com users prizes like a Mad Men poster or 2011 wall calendar (limit one per person).
In the wake of Mad Men's awards victories last weekend — two prizes at the Writers Guild Awards and one at the Art Directors Guild Awards — Maddicts are celebrating with words of praise for the show's writing and Dan Bishop's production design. Want to join the celebration? Add your thoughts to the comments section below.
– "There are hardly ANY well-written shows on TV any more. The success of "Mad Men" should be a sign to network executives that people are craving some REAL entertainment." — Nora DeLong Garrity
– "Very rare to witness such a consistency in quality, coherence in the story, and nothing less than amazing dialogues. Simply beautiful." — Jugurtha Hadjar
– "Thanks to Dan for creating/building this world for us! Thank you for allowing me to time-travel!" — Genevieve Montgomery
Log onto the Talk forum to join a conversation or start a Mad Men topic of your own. As always, your comments throughout the blog are welcome.
Read More