Share Your Favorite Stan Rizzo Quotes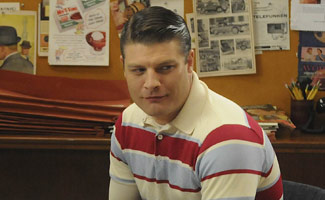 Costume designer Janie Bryant calls him "The Coach," Don Draper calls him "talented", and he calls himself "liberated." Who is he? None other than Stan Rizzo, Sterling Cooper Draper Pryce's resident Art Director. Although new to Season 4, this character's had a lot said about him and had a lot to say, too. If you've got a favorite Stan quote, don't be shy — post it in the comments section below.
One contributor will be randomly chosen to win a Mad Men poster. Your selection may even end up on the Mad Men website. All submissions should be posted in the comments section below and must include the episode from which the quote is taken.
Read More