Press
January Jones Praises Paparazzi to USA Today; Moss and Shipka Talk Red Carpet With Glamour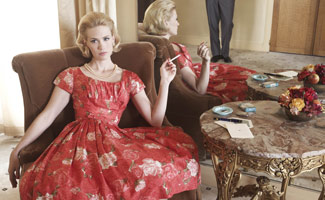 This week, January Jones talks about the pros and cons of living a public life, while Elisabeth Moss and Kiernan Shipka reveal their red carpet secrets. Want more? Read on…
• USA Today features a cover story on January Jones in which the actress reveals her secret appreciation of paparazzi.
• Elisabeth Moss dishes to Glamour [no link] about finding the perfect dress for awards shows, while in the same magazine [no link], Kiernan Shipka explains her red carpet game-plan.
• Check out photos on justjared of Christina Hendricks at the AMC Mad Men Gala Event, where Paris Mayor Bertrand Delanoe presented Matthew Weiner with the Vermeil medal for cultural and other contributions to society.
• The L.A. Times references the MadMenYourself Avatar in an article about social media.
• Actor Michael Gladis tells NYMag.com that he's hopeful that his character, Paul Kinsey, will return to the show.
• Digital Spy mentions Mad Men in a larger story about the rise of content piracy with the launch of UK channel Sky Atlantic.
• In a Los Angeles Times article about networks vying for the Emmy broadcast, Mad Men is cited as a drama that has "cleaned up at the Emmys" in the past.
• Coverage of Mad Men's WGA wins this past weekend was picked up by USA Today, The New York Times, Los Angeles Times, Philadelphia Daily News, Detroit Free Press and The Boston Globe.
• Need a reason to drink like a Mad Man? The Five O'Clock Cocktail Blog offers up this recipe for a Moscow Mule, courtesy of the Mad Men Cocktail Guide.
Read More