What You're Saying About Mad Men's Influence at Fashion Week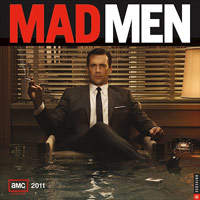 Every week, AMCtv.com honors the Talk forum and blog commenters by quoting them in the weekly "What You're Saying" post, then awarding those who have commented as registered AMCtv.com users prizes like a Mad Men poster or 2011 wall calendar (limit one per person).
Since its debut back in 2007, Mad Men has been making fashion waves. Indeed the drama's sartorial influence is felt at New York's Fashion Week year after year. In celebration of that, Maddicts showed off their own fashion savvy as designers showcased their current lines in NYC once again. Add your own thoughts in the comments section below.
• "I'm not a fashionista by any stretch, but reading this makes me want to move to NYC." — ericcooley
• "I pray that the influences reach beyond the coasts, so that a pencil skirt no longer stops traffic in Albuquerque NM." — WallDruggie
• "Well, the fashion industry is catching up on what we already knew….1960s fashions are hot!!" — Yesterdaze Vintage
Log onto the Talk forum to join a conversation or start a Mad Men topic of your own. As always, your comments throughout the blog are welcome.
Read More