Uncategorized
The Mad Men Fashion File – Mad Men Set to Make Waves at NYC's Fashion Week Again
Fashion Week is looming, and, for those of us in the industry, that means three big things:
1. More excuses to dress up.
2. More excuses to stay out.
3. More excuses to ask, Zoolander-style, "What's your inspiration?"
It's a cliché question and one that designers tackle in a variety of ways. Zac Posen keeps a board full of vintage sketches and fabric swatches in the front of his studio. Elise Overland compiles photos from around the world above her desk. (Last season's featured open-heart surgery and were taken by a friend in the operating room.) The rock-and-roll thread banger Zaldy once told me his stock answer was, "I'm inspired by the toilet — and poop in particular."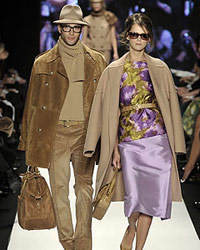 That's a good retort, but more likely this season you'll hear a chorus of runway designers say "Mad Men" and mean it. After all, it wouldn't be the first time.
In 2008, following Mad Men's first season, Michael Kors sent his fall collection down the runway with Jacquard, jewel-tone fabrics, fur accents, sylph silhouettes — and evening gloves. All the models needed were name tags reading, "Hello, my name is… BETTY." Backstage, Kors confessed his love for the show and even hosted the premiere of Season 2 when it debuted (right around the time his "Draper or bust" clothes hit stores).
But that was just the beginning.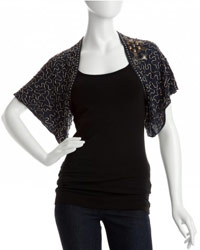 Soon silk pencil skirts and bugle beads were the norm at Nanette Lepore (perfect for Bobbie Barrett), and Milly by Michelle Smith sewed retro prints and pleated skirts with a diligence and consistency that rivaled Janie Bryant. Amy Winehouse helped with her own brand of Draper gone bad, including slashes of liquid eyeliner and a destroyed updo that looked like Betty at her most volatile. Meanwhile, vintage havens like What Goes Around Comes Around and Decades began highlighting early-sixties cocktail dresses in their collections, instead of the more popular Pucci minidresses from 1972. And, of course, eBay exploded. (At last count, their fashion section boasted over 2,000 items described by their owners as "Mad Men.")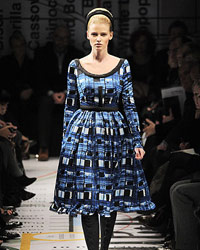 Things got really interesting last fall, when Prada took their modern style quirks and combined them with the Mad Men silhouette — high waists, A-line to-the-knee skirts, and the kind of tweedy Crayola textures that keep Dr. Faye Miller in business. For the first time in… maybe ever, the high-fashion brand put several Victoria's Secret bombshells on the runway, emphasizing the hourglass curves we've come to associate with Joan. And the hair — a modern, messy beehive — soon became a red-carpet staple for fashion-forward stars like Natalie Portman and Lily Allen. Scarlett Johansson even appeared in the season's Dolce & Gabbana campaign wearing the undone hair with a cat eye, another import from AMC to Barneys New York.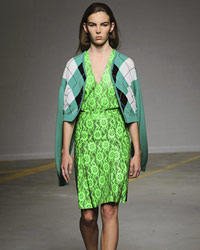 Spring 2011 — what's hitting stores now — has its own brand of Mad Men sewn into its bodices and skirts. Louis Vuitton's luxe take on the American housewife keeps Prada's high chest and pouty pleats, while emerging designers like Christopher Kane took the show's classic schoolgirl silhouette and dyed it neon green and yellow. Sally on acid?
And things are getting really interesting as we move into the late sixties on the show, since Wayfarers, bell-bottoms, and eyelet shift dresses have been edging their way into fashion for almost ten years, especially via labels like Stella McCartney, Vena Cava, and Chloé, which have women as their creative directors. Marc Jacobs even took the palette of a sixties kitchen and splashed it all over his minidresses for an adorably crazy floral effect.
So what's next? A kind of reversal, it seems. Recently, January Jones's new ad campaign for Versace was revealed. She's the face of the brand in all its overt sexiness — an anti-Betty, so to speak, but still with a hint of Mad Men's blonde housewife. But even as the actress moves further away from her famous image, we bet the runways will cling to Betty's famously formal shape. Starting this Thursday, when New York's Fashion Week begins, we'll have the new clothes to prove it.
Read More