Press
Mad Men Actors Light Up the Big Screen All Year Long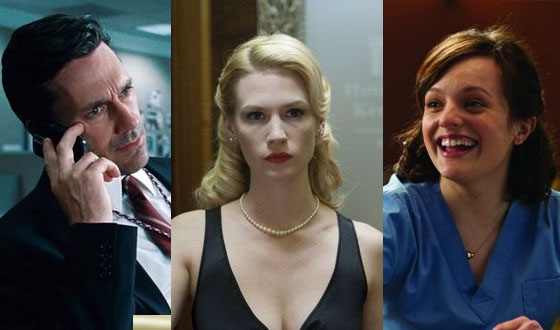 If you're going through Mad Men withdrawal, the
best cure — besides encores on VOD — may be to check out the cast's big screen endeavors. With January Jones starring opposite Liam Neeson in the newly opened thriller Unknown, and John Slattery making Matt Damon's life miserable in the upcoming The Adjustment Bureau, now's a particularly good time to be a moviegoer and a Mad Men fan. Check out these recent movies (some in theaters; some on DVD) if you've just got to see a Mad Men actor in action immediately.
January Jones, Unknown
Here Jones plays another stylishly dressed wife with a dark side. And if you thought Betty's marital problems were difficult, consider that this time around, not only is Jones' character married to another man but the new man has assumed the identity of her former husband (Liam Neeson).
Jon Hamm, The Town
With turns in The A-Team, Howl, and Shrek Forever After, Hamm had a big year in 2010. But The Town, Ben Affleck's acclaimed Boston thriller, is where he really gets to shine. Playing an FBI agent hot on Affleck's bank-robbing trail, this big screen role is Hamm's most memorable to date.
Elisabeth Moss, Get Him to the Greek
Peggy Olson fans will enjoy seeing the lighter side of Moss via last summer's rock 'n' roll comedy. A spin-off of Forgetting Sarah Marshall, Get Him to the Greek costars Moss as the levelheaded girlfriend of Jonah Hill who ends up in a threeway with sleazy Russell Brand. What would Peggy think?
John Slattery, The Adjustment Bureau
In this Philip K. Dick adaptation, Slattery dons a Sterling-esque fedora as a member of a mysterious group ensuring things "happen according to plan." Why won't he let Matt Damon fall in love with Emily Blunt? Find out in theaters on Fri., Mar. 4. (If you're too impatient, Netflix Iron Man 2 which cast Slattery as a Howard Hughes-like industrialist)
Christina Hendricks, Life as We Know It
Astute viewers will notice Hendricks as Katherine Heigl and Josh Duhamel's friend in this summer rom-com about a mismatched pair who fall in love after getting custody of a baby. Will they live happily ever after? The answer is obvious. A better question is "When will Hollywood give Hendricks a lead movie role already?"
Jared Harris, Extraordinary Measures
Harris' role as Dr. Webber, a no-nonsense corporate executive and the film's chief villain, in this Brendan Fraser weepie, is quite the departure from the likeable Lane Pryce. Based on a true story, Harris' character represents the various corporate factions who stood in the way of John Crowley's (Fraser) quest to find a cure for the rare disease plaguing his children.
Cara Buono, Let Me In
Yes, the alcoholic mother of the main young boy is played by the same woman who plays Don Draper's temporary love interest Faye. In 2010's creepy horror remake, Buono's character's divorce and abusive behavior driver her son to form a deadly bond with a teen vampire.
Kiernan Shipka, Cats and Dogs: The Revenge of Kitty Galore
Parents who watch this sequel to the popular "pets as secret agents" franchise will want to keep an eye out for Mad Men's Sally Draper in the role of a little girl who befriends the titular canine dogooders during a scene in the park. Evidently, even the junior Mad Men stars are scoring some plum movie roles.
Alison Brie, Raspberry Magic
In Leena Pendharkar's acclaimed indie drama, Brie plays a teacher who inspires a young student to enter the school science fair in the hopes of bringing her estranged family together. You can catch this one on Hulu now so it doesn't even cost you anything.
Jay Ferguson, The Killer Inside Me
If you caught this controversial pulp thriller, you probably noticed that the actor who plays Season 4 newcomer Stan is one of the victims of Casey Affleck's sociopathic sheriff. Ferguson plays Elmer Conway, the troublemaking son of the town's preeminent businessman (Ned Beatty). No spoilers here but let's just say, what happens sure isn't pretty.
Read More