What You're Saying About Your Favorite Season 4 Ad Campaigns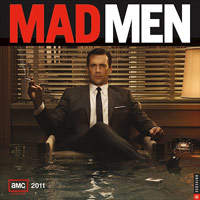 Every week, AMCtv.com honors the Talk forum and blog commenters by quoting them in the weekly "What You're Saying" post, then awarding those who have commented as registered www.amc.com users prizes like a Mad Men poster or 2011 wall calendar (limit one per person).
Maddicts this week spoke loud and clear about which Season 4 pitches were their favorites. Agree? Disagree? Vote for the top
Sterling Cooper Draper Pryce ad campaigns, and share your reasoning in the comments section below:
– "I liked the Samsonite Luggage commercial :)" — Nikki Sanders
– "That Bye, Bye Birdie jingle was etched in my brain for weeks but def. have to say it's all Honda for me." — Justine Martini
– "'Life–eat it by the bowlful.' It didn't sell to the clients, but I loved it!" — Janice Latham Staggs
Log onto the Talk forum to join a conversation or start a Mad Men topic of your own. As always, your comments throughout the blog are welcome.
Read More