Press
ABC News Loves Jon Hamm's Hair; January Jones to Present at Golden Globes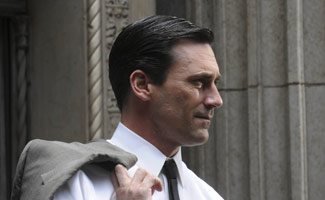 This week Jon Hamm's hair is in the news, January Jones is slated for an appearance at a major awards show, and Kiernan Shipka wins over the Television Critics Association. Read on for more details!
• ABCNews.com reports that Jon Hamm's hair is one of the most desirable celebrity body parts in America, according to a recent survey.
• Jon Hamm and January Jones have been tapped to present at two separate awards shows this weekend. MTVNews.com reports that Jones will be presenting an award at the Golden Globes Sunday night, while hollywoodreporter.com has news that Hamm will do the same at the Critics' Choice Movie Awards tonight.
• While promoting her new movie, Smooch, at the Hallmark TCA Panel, Kiernan Shipka speaks to reporters about everything from her college pick (Yale) to current pop stars. "I don't know if I have Bieber fever or anything," she says.
• In an interview with ShortList.com, director David Lynch professes his love for Mad Men and talks about grabbing drinks with Elisabeth Moss. "I had the opportunity to meet Peggy Olson and Don Draper," he says. "That's who they are to me. I called Peggy, 'Peggy.'"
• The Los Angeles Times delves into the process of turning Aaron Staton into a character for L.A. Noire, the much-hyped video game, crediting its lifelike quality to Staton's performance. Advance praise has been pouring in for L.A. Noire at Wired.com and GameInformer.com.
• The DGA announces its award nominations, and Mad Men's Jennifer Getzinger receives a nod for directing Season 4 Episode 7 "The Suitcase," as reported by Variety.
• Matthew Weiner talks to TV Guide about the Mad Men course at Northwestern University, and how he would craft the curriculum if he had his druthers. "I'd focus on Don," he says.
• According to Women's Wear Daily, Jon Hamm makes an appearance at a Jaeger-LeCoultre event to promote the brand's new Reverso watch — while sporting a replica of the Reverso watch that Don Draper wears on the show. Check out PopSugar.com's slideshow of images from the event.
• Variety includes Mad Men in its report on strong, feisty female characters dominating this year's Golden Globe Awards nominations.
• This very Mad Men blog is named a finalist in two categories of CableFAX's Best of the Web awards: Best Blog or Series of Blogs and Best Blogger (Faran Krentcil).
Read More