Press
Mad Men Showered With Guild Award Nominations; Cast Members Resurface in Outside Projects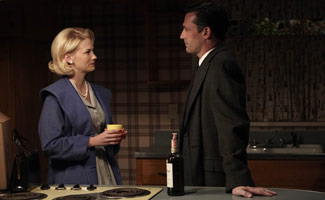 As awards season heats up this week, Mad Men picks up nominations from several guilds and elicits some Golden Globes buzz. Also, see what January Jones is saying about her upcoming X-Men gig.
• Mad Men is now nominated for an Art Directors Guild award, a Writers Guild award and a Producers Guild award.
• January Jones dishes to the Los Angeles Times about her upcoming role in X-Men: First Class and admits to a level of "spandex anxiety." Of her Emma Frost character, Jones says, "She's got quite the bod, which is very intimidating."
• Broadway.com reports that Elisabeth Moss' West End play — The Children's Hour, co-starring Keira Knightley — has extended its run by four weeks. Check it out if you're in London between Jan. 22 and Apr. 30!
• Catch a glimpse of Jared Harris (sans spectacles) in this EW.com trailer for John Carpenter's new horror flick, The Ward.
• Zap2it.com hails the Mad Men Season 4 DVD packaging, remarking that "it reminds me of the painting in Roger's office this year: it really draws you in."
• In an article about the advent of Google TV, the Hollywood Reporter contemplates the drawbacks of multi-tasking during Mad Men.
• Using Twitter as its gauge, Klout.com named Mad Men one of the ten most influential televisions shows of 2010.
• Mad Men lands in two more "Best of 2010" lists from The Houston Chronicle and The Salt Lake Tribune.
• Let the members of the Hollywood Foreign Press Association know how much you want Mad Men to win on the Golden Globes Facebook page.
Read More