What You're Saying About an Imaginary Mad Men Yearbook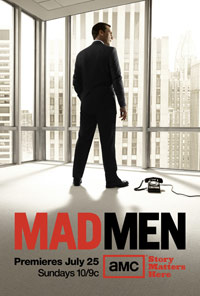 Every week, AMCtv.com honors the Talk forum and blog commenters by quoting them in the weekly "What You're Saying" post, then awarding those who have commented as registered www.amc.com users prizes like a Mad Men poster or 2011 wall calendar (limit one per person).
This week Maddicts on the Talk forum have been creating a virtual yearbook for all the Mad Men characters, by assigning "most likely to…" superlatives to each of the various players. Take a look at some of the suggestions here, then check out the original Talk forum post to find out who's been pegged as Class Clown and Class Flirt. Got another suggestion? Share it!
– "Most Likely to Travel the World – Bert Cooper" — Drink&Smoke
– "Most Likely Never to be Seen Again: Chauncey" — lkd711
– "Not Most Likely to Win A Safety Award: Lois Sadler" — MadMenSuze
– "Most Likely to Be a Best-Selling Author: Trudy Campbell ("Every Kind of Sandwich")" — TipsiM
Log onto the Talk forum to join a conversation or start a Mad Men topic of your own. As always, your comments throughout the blog are welcome.
Read More