Press
Mad Men Season 4 DVDs (and Blu-Ray) to Hit Stores This March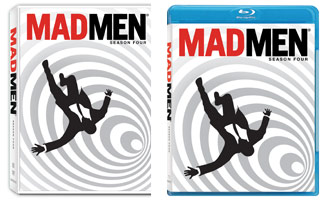 Mad Men Season 4 will soon be available on DVD and Blu-ray as Lionsgate will release the complete fourth season on Tue., Mar. 29. The set, containing all 13 episodes which premiered in Summer 2010, is packed with hours of extras including extensive commentary and innovative featurettes.
Some of the DVD/Blu-ray disc special features include:
• "Divorce: Circa 1960s" – A three-part documentary about divorce during a time when the traditional family was the core of American society.
• "How to Succeed in Business Draper Style" – CEOs, advertising legends and executive coaches use scenes from Mad Men to detail Don Draper's 10-point blueprint for success.


• "Marketing the Mustang: An American Icon" – The birth of the Ford Mustang as well as the marketing and advertising campaign that launched this American classic.
• "1964 Presidential Campaign" – Archival footage of President Johnson's and Senator Goldwater's speeches, campaign commercials and the Presidential Inauguration of the most lopsided elections in American history.
• Mad Men Season 4 commentaries – Matthew Weiner and Mad Men's cast and crew take viewers behind the scenes in feature-length audio commentaries for all 13 episodes.
Mad Men Season 4 is now available for pre-order. Reserve your copy today!
Read More