What You're Saying About Mad Men Actors in the Movies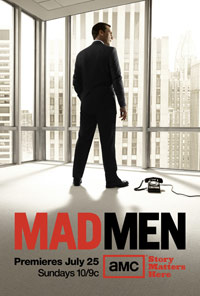 Every week, AMCtv.com honors the Talk forum and blog commenters by quoting them in the weekly "What You're Saying" post, then awarding those who have commented as registered www.amc.com users prizes like a Mad Men poster or 2011 wall calendar (limit one per person).
This week Maddicts soothed their impatience about the Mad Men Season 4 DVD release date (Tue., Mar. 29) by sharing the latest news about cast members' appearances on television and on the big screen. Know something that isn't mentioned here? Add it to the comments section below.
– "I saw January Jones in 'The Boat That Rocked'! It was on TV the other day. The office of the main antagonist reminded me of something you would see on Mad Men." — rubbersoul
– "Kiernan Shipka is in a TV-Movie called Smooch (airs 2011). It's a modern version of the classic Frog Prince" — MadDutch
– "saw previews for…Midge (Rosemarie DeWitt) and Ben Affleck in The Company Men. … Go, MM actors/actresses!" — flowerpower
Log onto the Talk forum to join a conversation or start a Mad Men topic of your own. As always, your comments throughout the blog are welcome.
Read More