What You're Saying About Jon Hamm Lookalikes on TV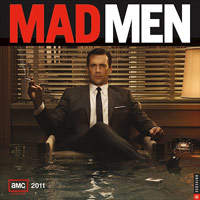 Every week, AMCtv.com honors the Talk forum and blog commenters by quoting them in the weekly "What You're Saying" post, then awarding those who have commented as registered www.amc.com users prizes like a Mad Men poster or 2011 wall calendar (limit one per person).
Even between seasons, Mad Men fans think about the series so much that they see images of Jon Hamm everywhere they look. Have you spotted the Hamm lookalikes mentioned below? Want to add another pseudo-Hamm sighting to the record? Join the conversation!
– "Has anyone else noticed how some ads are featuring tall, dark, (not quite as) handsome males who have a strong resemblence to Jon Hamm? … I'm thinking immitation IS the sincerest form of flattery. Way to go Jon!" — rozsie
– "It's not just commercials. There are JH lookalikes in TV shows too. Did you see 'Lone Star'? Even if you didn't, the promos showcase the very good-looking male lead." — lkd711
– "If Aaron Eckhart had dark hair?" — chriscr
Log onto the Talk forum to join a conversation or start a Mad Men topic of your own. As always, your comments throughout the blog are welcome.
Read More