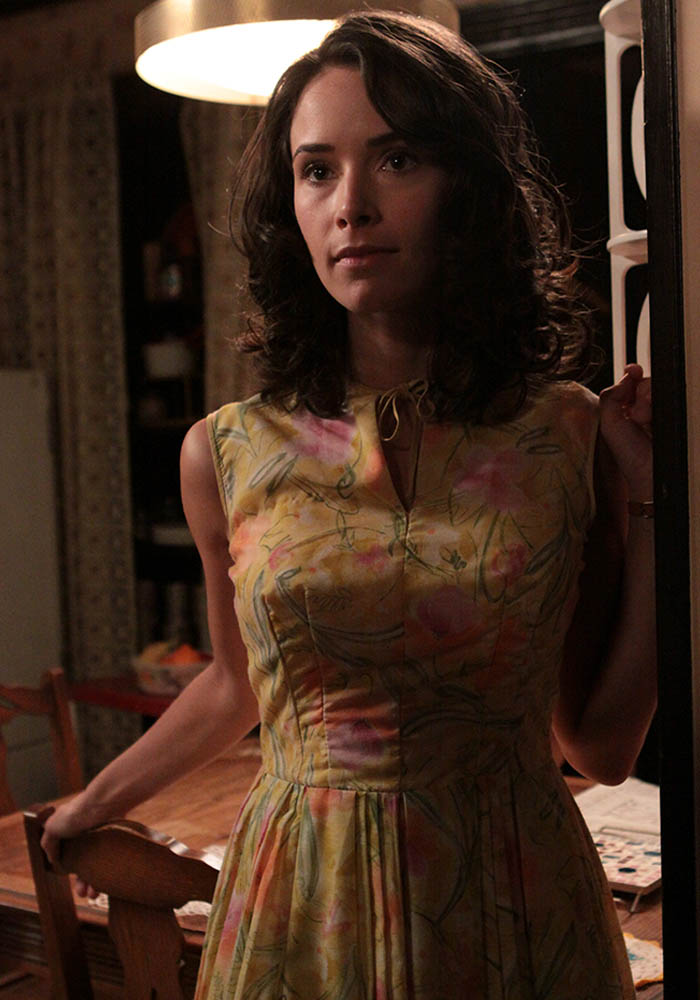 Suzanne Farrell is Sally Draper's former teacher; she first meets Don during a parent-teacher conference after his daughter misbehaves. Months later, Don gives Suzanne a lift home and, beguiled by her idealism, pursues her.

"I can't stop thinking about you," Don tells Suzanne one night, challenging her to admit the same. She's been thinking about him too, she says, but she can also project forward how a relationship with Don would end. "So what?" he replies. The two kiss.

Suzanne initially says that she doesn't care about Don's other commitments, "as long as I know you're with me." Later, though, she laments being unable to dine in public with Don. She also worries, she says, because he seems deeply unhappy.

Don and Suzanne plan a clandestine vacation, but it never takes place. (Unbeknownst to Suzanne, Betty has confronted Don about his true identity.) "Are you okay?" Suzanne asks when Don calls to break off the affair. "Only you would ask about me right now," he says.

After spending her summers studying with Ann Reinking at the Broadway Theatre Project, Abigail Spencer put her musical theatre aspirations on hold when she got her break at age 17, cast from her hometown of Gulf Breeze FL, to be a regular on the daytime soap opera All My Children (Best Newcomer of the Year- Soap Awards) in NY. Following her two years on the show, Abigail moved on to be the lead in several pilots, most notably Introducing Lennie Rose for ABC helmed by Ken Olin and Krista Vernoff (Brothers and Sisters/Grey's Anatomy), and Backyards and Bullets for NBC (Charles McDougall, Jamie Tarses, Ed Decter & John Strauss). Abigail has also appeared in television shows such as How I Met Your Mother, Bones, My Boys, Ghost Whisperer, CSI, Gilmore Girls, and the series Angela's Eyes as Angela, plus movies Hooked (Richie Keen), Fathers and Sons (Rodrigo Garcia), and A Coat of Snow (Gordy Hoffman), She is currently the "TWIX GIRL" and her new film In My Sleep hits theatres in the US early 2010. Shortly after having her first child last September, Abigail went back to work on the Two Hour Crossover Event of Grey's Anatomy/Private Practice where she played Rachel, a young woman deep in the throws of Postpartum Depression.

Recently you've seen her as Miss Suzanne Farrell on Mad Men. Next, she'll be seen on Castle, as double crossed fiance Sarah Reid who is seeking truth, and keeping secrets.
Suzanne Farrell Quotes
I know exactly how it ends.
People are ignorant. They're scared of things they don't understand.