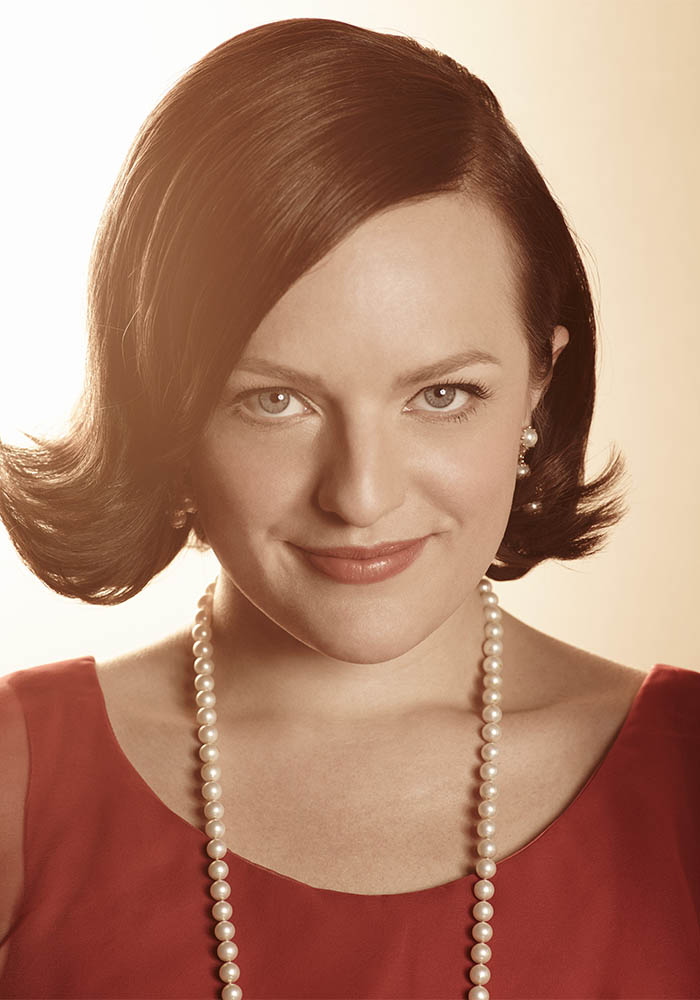 Peggy discovers not only an unexpected talent for copywriting, but an unexpected ambition, moving from the steno pool all the way up to copy chief at Sterling Cooper & Partners. Peggy has to fight harder than her co-workers, as both a woman and a former secretary, and she earns respect for her skill and drive – even from Don, an encouraging mentor and harsh critic throughout her career. But Peggy carries a deep psychic wound from the baby she gave away. Although her relationships always come second to her work, she speaks emotionally about a 10-year-old neighbor, as if he were her own son, in a moving pitch that wins the Burger Chef account.

Elisabeth Moss has received five Emmy® Award nominations, a Golden Globe® nomination, and two Screen Actors Guild Award nominations for her performance as Peggy Olson on Mad Men. Additionally, Moss's performance in Jane Campion's highly- acclaimed seven-part miniseries Top of the Lake earned her numerous accolades and awards, including the Golden Globe® and Critics Choice TV Awards for Outstanding Lead Actress in a Movie or Miniseries, as well as Emmy® and Screen Actors Guild award nominations in the same category. Prior to Mad Men, Moss played Zoey Bartlett for seven seasons on Aaron Sorkin's critically appraised and award-winning drama The West Wing.

On the big screen, Moss starred opposite Mark Duplass in The One I Love, directed by Charlie McDowell, which premiered at this year's Sundance Film Festival. Most recently, she starred with Jason Schwartzman in Alex Ross Perry's Listen Up Philip, which also premiered at this year's Sundance Film Festival. Moss recently wrapped production on four films: High-Rise, with Tom Hiddleston, Sienna Miller, and Jeremy Irons; the psychological thriller Meadowland starring Olivia Wilde and Luke Wilson; Queen of the Earth, another psychological thriller which reunited her with writer/director Alex Ross Perry; and Truth, in which she stars opposite Robert Redford and Cate Blanchett.

Moss's additional film credits include On the Road, Get Him to the Greek, The Missing, Girl Interrupted, Mumford, A Thousand Acres, and Virgin, for which she was nominated for an Independent Spirit Award for Best Actress.

Moss will return to the stage in early 2015 starring in The Heidi Chronicles, a Broadway revival of Wendy Wassterstein's Pulitzer and Tony® Award-winning play in which Moss will play the title character. Her additional theater credits include The Children's Hour in London's West End opposite Keira Knightley, the Broadway revival of David Mamet's Speed the Plow with William H. Macy, and her New York theater debut at the Atlantic Theater Company in Franny's Way.
Peggy Olson Quotes
Well. When he gets to "s", I need Howard Sullivan at Lever Brothers.
I'm Peggy Olson. I want to smoke some marijuana.
Your problem is not my problem.
Let's get liberated.
Why is there a dog in the Parthenon?
Oh, Miss Blankenship, good to see you. I mean nice to see you. I mean welcome back.
You need three ingredients for a cocktail. Vodka and Mountain Dew is an emergency.
I signed the first new business since Lucky Strike left. But it's not as important as getting married. Again.
Here's your basket of kisses.

EP 106 "Babylon"
I don't think anyone wants to be one of a hundred colors in a box.

EP 106 "Babylon"