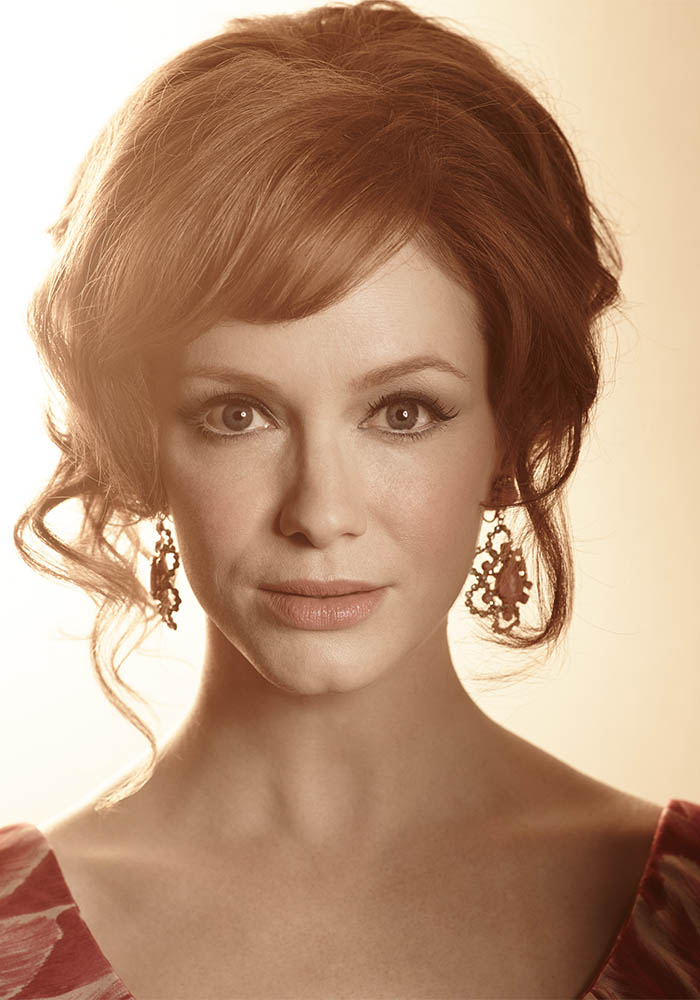 Joan was raised to be admired, but as she struggles to be taken seriously in a man's world, she set her sights on something better: respect. When Joan agrees to sleep with a client to help win the Jaguar account, she earns a partnership at Sterling Cooper & Partners, ensuring that her son will be provided for. She redefines her role at the agency, leaving behind her responsibilities as office manager in favor of a risky new position in accounts. Joan continues to look for true love while struggling to raise her son.

Christina Hendricks' portrayal of Joan Harris on Mad Men has earned her four Emmy® nominations for Best Supporting Actress in a Drama Series. Hendricks is also a two time Critics' Choice Television Award winner for Best Supporting Actress in a Drama Series for the role.

Hendricks was recently seen opposite Philip Seymour Hoffman in the independent film God's Pocket for director John Slattery. The film, which debuted at the 2014 Sundance Film Festival, was acquired by IFC Films.

Hendricks can soon be seen in Ryan Gosling's directorial debut How to Catch a Monster for Warner Bros. and in the Gilles Paquet-Brenner thriller Dark Places starring Chloe Moritz and Charlize Theron, who is also a producer.

Hendricks lent her voice to the fairy Zarina in Disney's animated film The Pirate Fairy which was released on video in April 2014. Other film credits include Neil LaBute's Seconds of Pleasure; Terry Loane's Measure of a Man; A Book of Common Prayer based on Joan Didion's 1977 novel of the same name; Sally Potter's Ginger & Rosa; Drive; Struck by Lightning; Detachment; I Don't Know How She Does It; Leoni; Life As We Know It; La Cucina; South of Pico; and Driving Lessons.

Her television credits include Showtime's Beggars and Choosers, TNT's The Big Time, NBC's ER and Life, ABC's The Court and Notes From the Underbelly, UPN's Kevin Hill, CBS's Without a Trace and Cold Case, and recurring roles on Joss Whedon's Firefly.

In 2011, Hendricks earned rave reviews on stage while seen in Stephen Sondheim's production of Company for the New York Philharmonic at Lincoln Center.

Hendricks currently resides in Los Angeles with her husband, Geoffrey Arend.
Joan Harris Quotes
Go home, take a paper bag, cut some eyeholes out of it. Put it over your head, get undressed and look at yourself in the mirror. Really evaluate where your strengths and weaknesses are. And be honest.

EP 101 "Smoke Gets in Your Eyes"
He may act like he wants a secretary, but most of the time they're looking for something between a mother and a waitress.

EP 101 "Smoke Gets in Your Eyes"
This is why I don't allow crying in the break room. It erodes morale. There's a place to do that, like you're apartment.

EP 201 "For Those Who Think Young"
It's so obvious why you're going out with her.

EP 202 "Flight 1"
Fun-loving girl, responsible sometimes. Likes to laugh, lives to love seeks size six for city living and general galavanting. No dull moments or dull men tolerated.
When you wake up in the middle of the night and wonder what you forgot, don't call me.
That's life. One minute, you're on top of the world. The next, some secretary is running over your foot with a lawn motor.
I thought American men were bad enough, but none of them has ever so consistently made me feel like a helpless, stupid little girl.
I'm not a solution to your problems. I'm another problem.
I was just made Director of Agency Operations. A title, no money of course. And if they poured champagne, it must have been while I was pushing the mailcart.