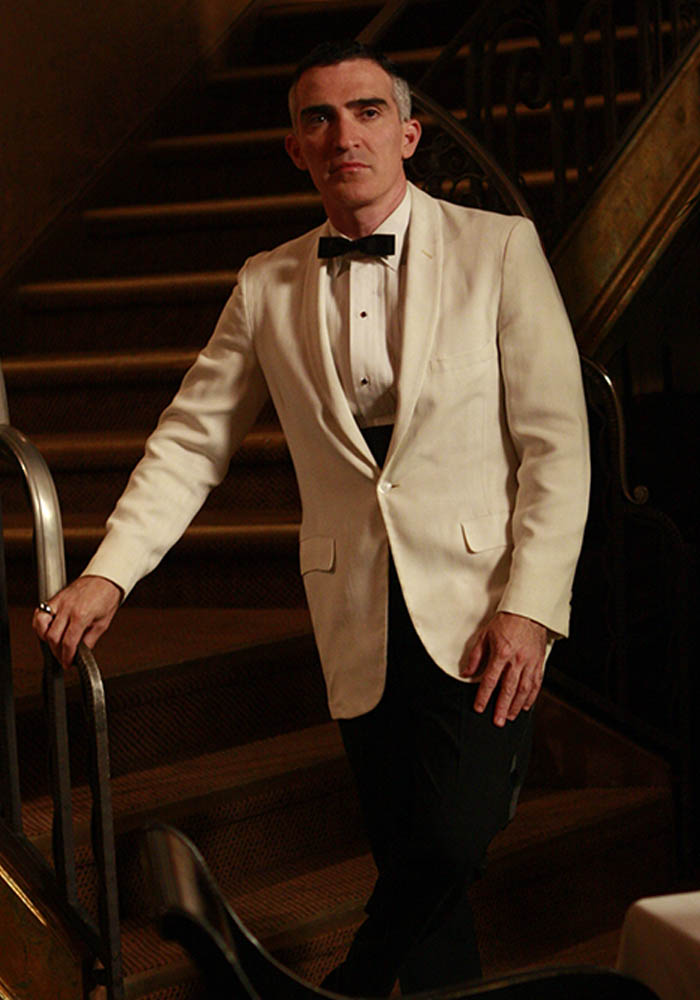 Jimmy Barrett is a sharp-tongued celebrity comic and the husband of Bobbie Barrett, his manager. At a Sterling Cooper promotional shoot for Utz Potato Chips, Jimmy compares the company owner's heavy-set wife to the Hindenburg and compounds the insult by refusing to apologize. Don Draper's attempts at damage control include sleeping with Bobbie.

At first unaware of the affair, Jimmy thanks Don for resolving contractual issues complicating a television deal. Jimmy soon becomes suspicious, though, and at a party to celebrate the TV show he tips off Betty Draper about her husband's infidelity. Later the same evening he confronts Don directly. "You're garbage," says Jimmy. "And you know it."

Not long after Jimmy's revelation to Betty, the two men run into each other at an illegal gambling club, where the comedian greets Don as "The Man in the Grey Flannel Suit." Don decks Jimmy with a single punch.

Actor Patrick Fischler is a part of Los Angeles/Hollywood history… He is the Patrick for whom famed landmark and celebrity eatery Patrick's Roadhouse on PCH is named. Patrick Fischler received much praise for his performance as Jimmy Barrett on the Emmy-winning series Mad Men and as part of The Dharma Initiative, he was integral to the final episodes of LOST's Season 6. He recurs as Detective Kenny No-Gun in TNT's drama series, Southland. Recently, Patrick starred in the Jay Roach comedy Dinner For Schmucks with Steve Carrell and Paul Rudd.

Fischler, who has guest starred in numerous television series including Burn Notice, Bones, CSI, Lie to Me, and many more, is no stranger to feature film. His first job was "the guy who pushed the elevator button" in Speed. He is constantly recognized as "the guy who had the dream" in Mulholland Drive. He also played the Deputy District Attorney in The Black Dahlia with Hilary Swank and Scarlett Johanssen. Fischler is currently filming One for the Money based on the bestselling books by Janet Evanovich, starring Katherine Heigl.

Patrick's restaurateur father bought a 6-stool hotdog stand on the beach near Malibu and named it after his then 5-year-old son. Then he expanded and expanded. Patrick's Roadhouse was (and still is) the place famous faces come for great food and unpretentious atmosphere, and has been highlighted in publications from Time Magazine to the LA Times.

Fischler was born and raised in Los Angeles. His parents introduced him to films and the theatre, which inspired his love of acting. He spent his freshman and sophomore years of high school living with his mother in her native Johannesburg, South Africa, where he attended American International High School. It was Patrick's first exposure to the world outside of Southern California; seeing the political and personal upheaval of apartheid had a profound and lasting effect on him. He completed high school in Beverly Hills and moved to New York to study theatre at NYU.

At NYU and Circle in the Square, Patrick worked in numerous productions, including the lead in Arthur Miller's After the Fall (his first acting milestone). He also met his future wife, fellow theatre student, actress Lauren Bowles. These two best friends did not marry until ten years later in Florence, Italy. Patrick's hobby is cooking and he doesn't mind letting you know he is really good at it…breakfast, lunch and dinner. He is also the "go-to" guy for eating out. This restaurant kid has tried them all.

Patrick and Lauren, who is a new series regular on HBO'S True Blood, are proud parents of 18 month old Fia Lucille Fischler. Together they also raise Donna, a mutt rescue from South Africa.