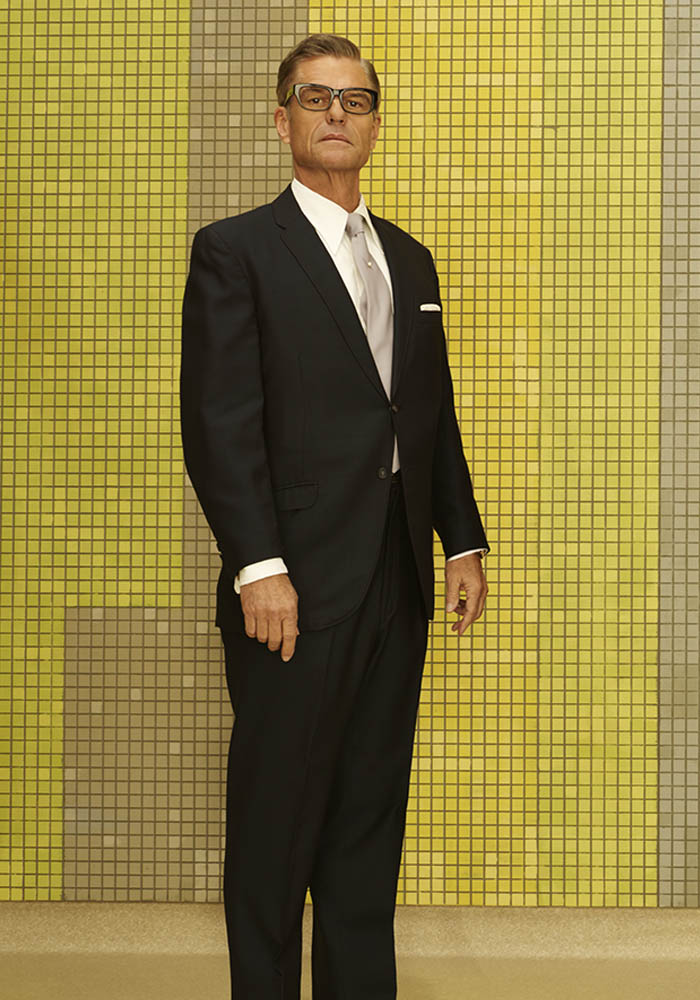 Jim Cutler walks into the merger with SCDP all smiles, but his upstanding facade cracks when he enthusiastically calls up his "doctor" to push the creatives through a working weekend. Cutler enjoys a little extra pep himself and winds up peeping on Stan getting it on with a hippie. He demonstrates a talent for backhanded solutions by recruiting the overearnest Bob Benson to service a former SCDP account and then rejoicing in Bob's failure. He and Roger butt heads and compete to be the top dog, but while Roger's in California with Don, Cutler starts his plan for dominance without being detected.

Having garnered a Golden Globe® nomination for Best Motion Picture Acting Debut in the musical comedy Movie Movie, Harry Hamlin has been steadily working in television, film, and stage for three decades. In addition to Mad Men, Hamlin currently has a recurring role on Showtime's Shameless and made recent memorable guest appearances on HBO's Curb Your Enthusiasmand TNT's Franklin & Bash.

Most recently, he filmed a kinky cameo in the thriller Shiva & May with Jessica Biel and Zosia Mamet. Hamlin followed wife Lisa Rinna's lead as a participant on ABC's top-rated Dancing with the Stars, for which they also completed a nationwide tour. They next united in the Broadway revival of Chicago as Billy Flynn and Roxie Hart and starred in their very own TV Land reality series,Harry Loves Lisa, which coincided with the launch of his Scribner memoir, Full Frontal Nudity. He also portrayed gregarious Uncle Marty on the CBS murder mystery Harper's Island, the debonair yet troublesome actor Aaron Echolls on the critically acclaimed Veronica Mars, led the cast of the comedy series Movie Stars, and completed an arc on Army Wives.

Hamlin received an additional three consecutive Golden Globe® nominations for his memorable role as attorney Michael Kuzak on Steven Bochco's L.A. Law. The cast reunited some 10 years later for a highly anticipated reunion movie. In the interim, Hamlin has starred in some two dozen telefilms and miniseries. On the big screen, Hamlin appeared as Adam Sandler's nature host rival in the FOX comedy Strange Wilderness. He previously starred as Perseus in the cult favorite Clash of the Titans with Sir Laurence Olivier; in the groundbreaking Making Love, about a gay relationship in the early '80s; and the more recent dramaImmigrant.

Hamlin is a classically trained actor, having received a Bachelor of Arts in Drama from Yale University, followed by a Master of Fine Arts in Acting from American Conservatory Theatre in San Francisco. He most recently received accolades for his star turn in the Los Angeles production of One November Yankee.

When not honing his craft, he is an active environmentalist.