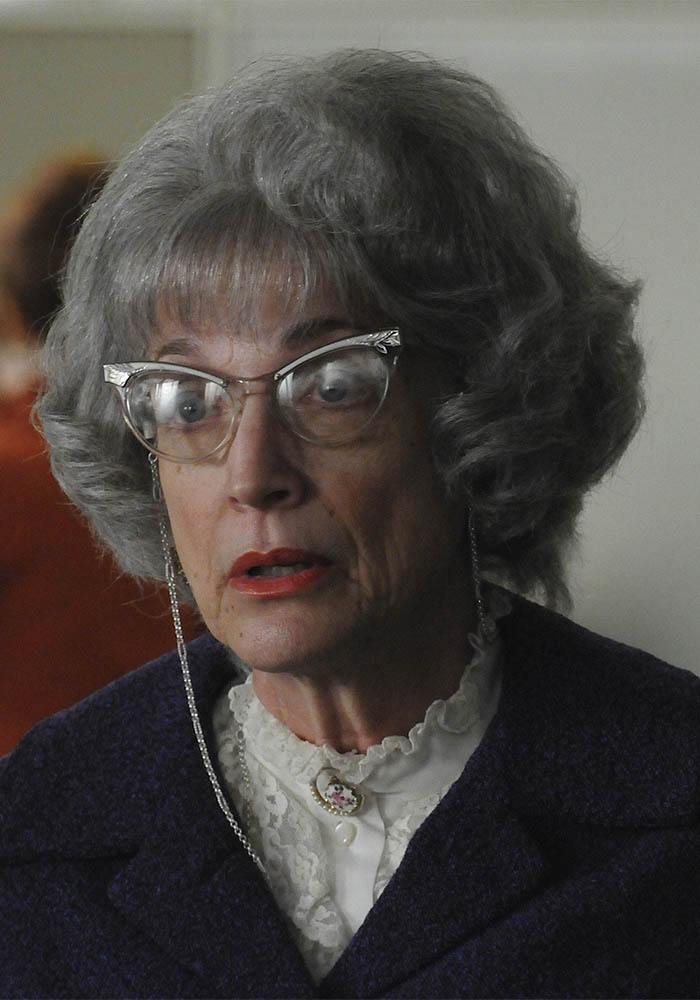 The elderly Miss Blankenship becomes Don Draper's secretary after he has a drunken tryst with her predecessor, Allison, who then resigns. "What'd you do to make them take her out of mothballs?" jokes Roger Sterling, who notes that before this assignment Miss Blankenship had been working in Bertram Cooper's apartment.

With her large eyeglasses and gravelly voice, Miss Blankenship exasperates Don by misinterpreting his directions and taking confused and inaccurate messages. Peggy Olson points out that he could replace Miss Blankenship. Don replies that Joan Harris knew what she was doing by assigning her.

One night Don happens upon a recording Roger makes for his memoirs in which he recalls angering Cooper decades earlier by romancing his secretary, Ida Blankenship. Roger refers to Miss Blankenship in her younger days as "the queen of perversions."

When Miss Blankenship dies suddenly at her desk, Cooper becomes distressed upon being told that Miss Blankenship's body is being taken to the morgue and redirects it to a funeral home. Later, Cooper contributes to her obituary: "She was born in 1898 in a barn. She died on the thirty-seventh floor of a skyscraper. She's an astronaut."

Randee Heller grew up in New York and at age seven informed her mom that she had entered herself in the Lyons Club Talent Show. She placed second. Undeterred, the next year she place first. Twelve years later, she made her New York debut in Godspell, then soon joined the cast of Grease as Rizzo on Broadway. Besides acting, she also showcased her musical talents singing with Top 40 bands in the New York area. A television series written by Joan Rivers brought her to Los Angeles.

In L.A., she soon became a sries regular on the groundbreaking Soap, playing the very first lesbian on network television. She was also a regular on such comedies as Mama Malone, Better Days, Boys Will be Boys (starring Matthew Perry) and many others. She's gone on to play guest starring roles on Grey's Anatomy, Brothers and Sisters, Nip/Tuck, ER and hundreds of other shows and was a recurring character on The Division, Judging Amy and Crossing Jordan. Film roles include Bullworth, Monster-in-Law and The Freddie Prinz Story.

Adept at both comedy and drama, she considers herself fortunate to have played two iconic roles in contemporary American entertainment: Lucille LaRusso, Ralph Macchio's mother in The Karate Kid and Ida Blankenship, Don Draper's secretary in Mad Men.

Onstage in Los Angeles, she has appeared in Uncommon Women and Others, Bermuda Avenue Triangle and The Tale of the Allergist's Wife. She also had the good fortune to play Barbra Steisand's mother during Ms. Streisand's Timeless 2000 World Tour.

Randee is the mother of two wonderful daughters, Sloane, an on-camera journalist in Kansas City, and Cody, a film and television writer in Los Angeles.