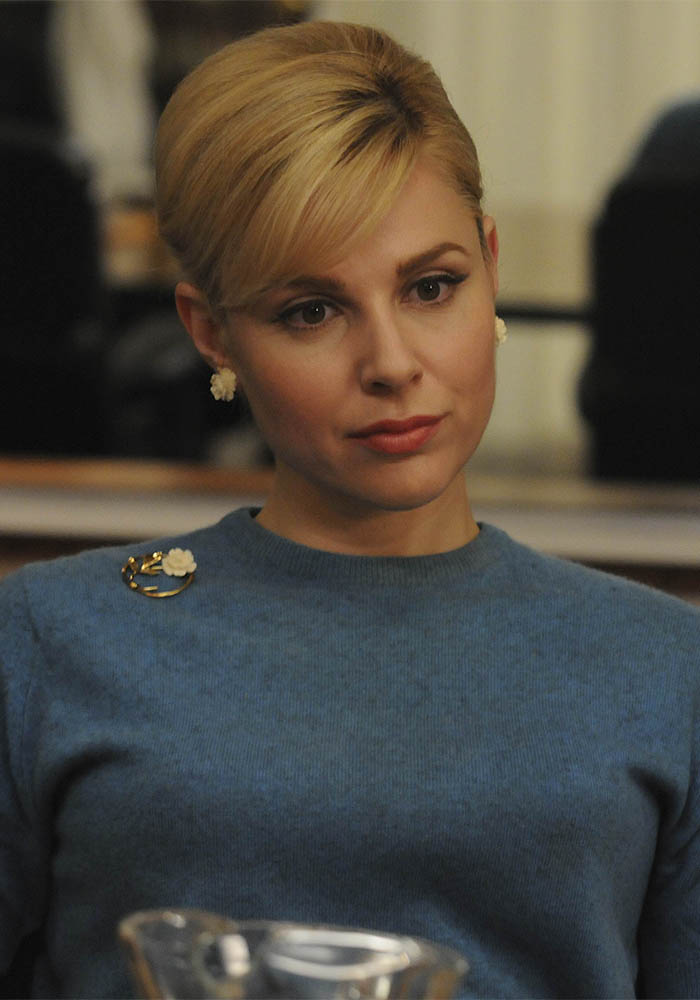 Dr. Faye Miller is a consultant for a consumer-research company that Bertram Cooper hires. Don Draper initially resists her psychological approach, arguing that questions about childhood won't help him sell floor wax. Faye replies that his much-lauded Glo-Coat commercial "must be about someone's childhood," then predicts that Don will remarry within a year.

After Don wins a Clio Award for the Glo-Coat spot, he makes advances that Faye fends off, though she later agrees to a dinner date. Don surprises her by concluding the evening with merely a kiss, but a short time later the two begin sleeping together.

One day, Don's daughter Sally throws a tantrum and Faye is unable to calm her, though the receptionist Megan does. Faye tells Don she feels like she failed a test, but he assures her that the situation wasn't her fault.

Desperate for new business after SCDP loses the Lucky Strike account, Don asks Faye to tip him off about disgruntled clients at other agencies where she consults. She declines to do so on ethical grounds, but later relents and arranges a meeting with Heinz.

Shortly before he departs for California with his children, Don describes a "sick feeling in the pit of my stomach." Faye, who learned of Don's secret identity after nursing him through a panic attack, suggests that resolving his past might ease his anxiety. "I'm gonna miss you," says Don.

The next time Faye hears from Don, he announces his engagement. Tearful, Faye says that she hopes his fiancée realizes that he only likes "the beginnings of things."

Cara Buono's career has spanned the world of stage, television and screen. Most recently, Buono appeared in a season long arc in the fourth season of AMC's award winning show, Mad Men. As Dr. Faye Miller, Buono gave a memorable performance as the blindsided girlfriend of Jon Hamm's Don Draper.

Upcoming in 2011, Buono will appear in a multi-episode arc on ABC's Brothers and Sisters as Rose, the surprise love interest of Tommy Walker (Balthazar Getty). She will next appear as Nell in the independent feature film The Discoverers, which follows a family embarking on a Lewis and Clark re-enactment trek in order to find themselves. The Discoverers co-stars John C. McGinley, Griffin Dunne and Devon Graye and is directed by Justin Schwartz.

Buono portrayed Michael Imperioli's wife, Kelli Moltisanti, on the final two seasons of The Sopranos (HBO). She was a series regular on Third Watch (NBC) playing paramedic Grace Foster and a regular on Dead Zone (USA) playing Sheriff Anna Turner. Her notable television appearances include two critically acclaimed episodes of Law and Order (as well Law and Order: Criminal Intent and Law and Order: SVU), Deep in My Heart, a CBS/Hallmark movie in which she played Young Gerry with Anne Bancroft as Gerry, CSI and ER, whereon she was the final fatality of the series.

Buono's feature work includes Matt Reeves' Let Me In, the cult comedy Artie Lange's Beer League, Edith Banner in Ang Lee's Hulk, and independent features such as Next Stop Wonderland, Happy Accidents and River Red (all Sundance premieres); Two Ninas with Amanda Peet and Ron Livingston (winner of the Audience Award at the GenArt Film Festival); Chutney Popcorn (winner of the Second Prize Audience Award at the Berlin Film Festival); and Noah Baumbach's Kicking and Screaming (NY Film Festival premiere).

Buono has also appeared on Broadway in Tony Award winner Robert Falls' The Rose Tattoo opposite Mercedes Ruehl and Anthony LaPaglia, Some Americans Abroad directed by Roger Michel (Changing Lanes, Notting Hill) and The Tenth Man directed by Ulu Grosbard, both at Lincoln Center. She appeared in many off and off-off Broadway productions with companies such as Primary Stages, Playwrights Horizons and Naked Angels. Buono also appeared in Good Thing directed by Jo Bonney for the cutting edge company, The New Group, in which she won raves for her role as a 20-year-old pregnant methamphetamine addict.

As a writer, Buono co-wrote When the Cat's Away with director Brad Anderson for Miramax Films. She also wrote and directed the short film Baggage starring Minnie Driver and Liev Schreiber, which premiered at the Edinburgh International Film Festival, as well as the short film Another Complex starring Gil Bellows. Buono adapted F. Scott Fitzgerald's first novel This Side of Paradise. also for Miramax Films.

Buono was born in the Bronx on March 1, 1974. She graduated from Columbia University where she earned a degree in English Literature and Political Science in three years. Buono currently splits her time between New York and Los Angeles with her husband.