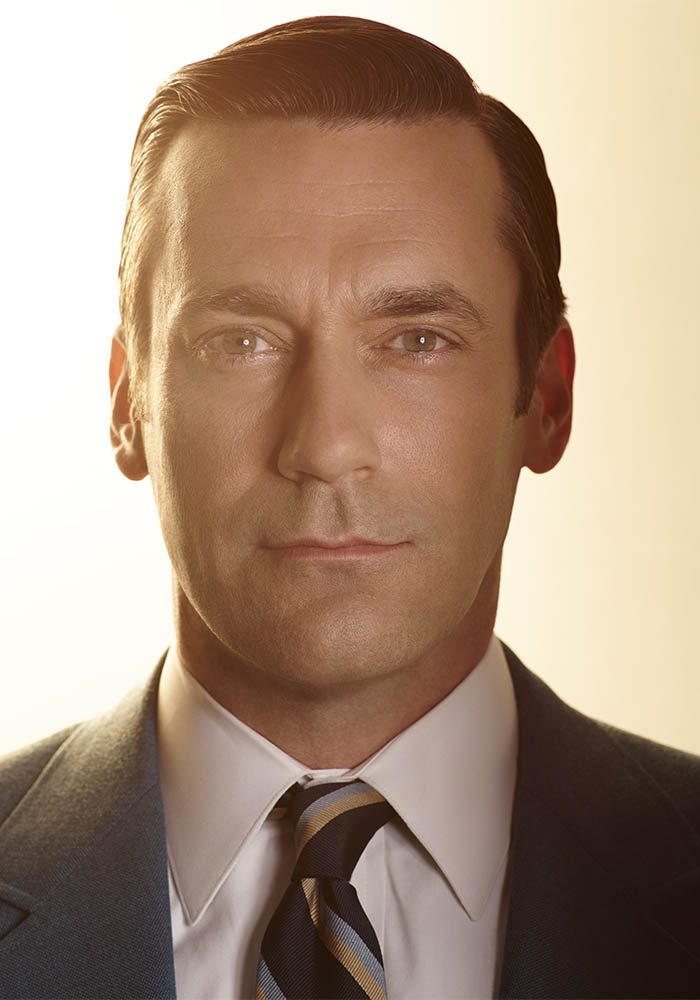 Don Draper has made a career selling the promise of happiness, but the reality continues to elude him. His marriage to Betty appeared picture-perfect, yet Don always felt he was missing something, seeking comfort in affairs, alcohol and an obsessive dedication to his advertising agency. Hoping for a second chance, Don marries Megan, but her independence leaves him feeling rejected, and he returns to his self-destructive behavior. Throughout his personal struggles, Don pursues challenges at work, starting a new agency with his partners, then merging with his rival in the pursuit of bigger business. But professional success does not provide the solace Don seeks, and he cannot escape the feeling that he is a fraud, finally revealing his impoverished childhood in a meeting with Hershey's. With a chance to walk away, Don instead finds a renewed hunger for his work and starts again from the beginning, working his way up in his own company and striving to build more meaningful relationships with his colleagues and his children.

Jon Hamm's portrayal of Don Draper on Mad Men has earned him numerous accolades, including a Golden Globe® Award, Television Critics Association Award, and a Critics' Choice Television Award, as well as multiple Emmy® and Screen Actors Guild nominations.

Hamm can next be seen starring in the UK's feature-length Christmas special of the International Emmy®-winning drama Black Mirror. On the big screen, Hamm recently starred in Disney's Million Dollar Arm, based on a script by Thomas McCarthy and directed by Craig Gillespie. Hamm can be heard in the upcoming animated film Minions, which will also feature the voices of Steve Carell and Sandra Bullock. His previous film credits include Friends with Kids, written and directed by Jennifer Westfeldt; Bridesmaids with Kristen Wiig; Ben Affleck's The Town; Zack Snyder's fantasy thriller Sucker Punch; Howl with James Franco; Shrek Forever After, in which he voiced the character Brogan; The Day The Earth Stood Still with Keanu Reeves; Jennifer Westfeldt's Ira & Abby and Kissing Jessica Stein; and Randall Wallace's We Were Soldiers.

Hamm's appearances on the Emmy®-winning comedy 30 Rock have earned him three Emmy® nominations for Outstanding Guest Actor in a Comedy Series, and he has hosted Saturday Night Live three times to critical acclaim. His additional television credits include executive producer and star of A Young Doctor's Notebook, a BBC miniseries opposite Daniel Radcliffe; Larry David's film Clear History for HBO; IFC's The Increasingly Poor Decisions of Todd Margaret; The Division; What About Brian; The Unit; Numb3rs; and CSI Miami. Hamm has also lent his voice to several series, including Metalocalypse, The Simpsons, Bob's Burgers, and more. Hamm first came to audience's attention in the NBC series Providence. Signed for a cameo role, he impressed the producers so much that he ended up with an 18-episode run on the series.

A native of St. Louis, Missouri, Hamm received his Bachelor of Arts in English at the University of Missouri-Columbia and currently resides in Los Angeles.
Don Draper Quotes
Why does everybody need to talk about everything?
Peggy, I'm glad this is an environment where you feel free to fail.
Ida was a hellcat?… Cooper lost his balls?… Roger's writing a book?
I should've finished high school. Everything could've been different.
You want some respect? Go out and get it for yourself.
People tell you who they are, but we ignore it because we want them to be who we want them to be.
We're flawed because we want so much more. We're ruined because we get these things and wish for what we had.
I would have my secretary do it, but she's dead.
We're gonna sit at our desks typing while the walls fall down around us. Because we're the least important, most important thing there is.
Believe me, Henry, everybody thinks this is temporary.