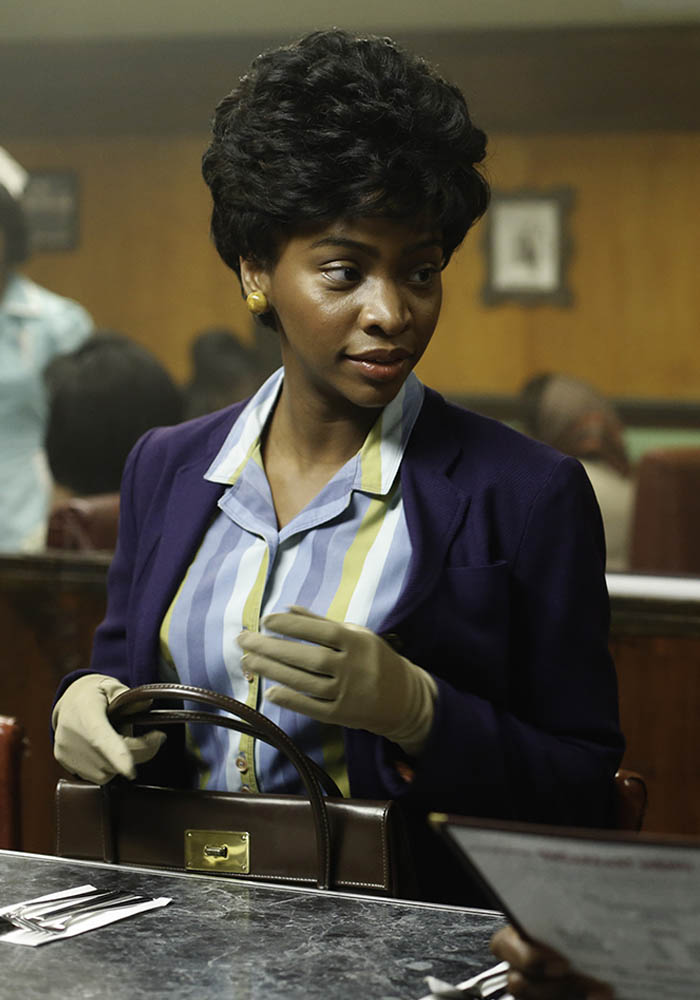 Dawn Chambers is Don Draper's secretary. Dawn is hired as Sterling Cooper Draper Pryce's first black secretary as a result of a gag newspaper ad identifying the firm as an equal opportunity employer, after which SCDP is forced to make good on their offer or face a protest. Dawn continues as Don's secretary after SCDP merges with CGC to form Sterling Cooper & Partners.

With southern charm, an unparalleled drive, and a trademark smile, Teyonah Parris is making strong waves in the acting world. Introduced in Season 5 as Dawn Chambers, Don Draper's new secretary, and the first African American hired at the show's firm, Sterling Cooper Draper Pryce, Teyonah is part of the 2013 SAG nominated ensemble cast of AMC's hit show Mad Men. Coming up, Teyonah can also be seen Lionsgate's They Came Together, where she plays opposite Amy Poehler.

Ms. Parris is no stranger to the spotlight, already making her debuts on the Great White Way and the Silver Screen last year. Teyonah shared the stage at Lincoln Center with Jeffrey Wright and Mos Def in Broadway's A Free Man of Color, while also celebrating the release of her first feature film, Columbia Pictures' romantic comedy, How Do You Know.

In How Do You Know (dir. James L Brooks), Teyonah played Riva, Lisa's (Reese Witherspoon) best friend and loyal confidant. In the film, both Riva and Lisa are professional softball players whose lives are thrown askew when Lisa is cut from the team. Certain aspects of this role (such as softball playing) came naturally to Teyonah, as this is a skill she honed throughout her life growing up in South Carolina.

As the middle child and only girl, she was a self-proclaimed tomboy and beauty queen, always thriving on being unique and never adhering to stereotypes. She started her journey in front of audiences by participating in pageants and modeling. An early notable memory is of her winning the title of Ms. Lower Richland High School, where she was the first freshman and African American on record to win the title. In addition to modeling and softball, Teyonah also participated in her high school's cheerleading, step, and dance teams.

Similar to her non-acting interests, Teyonah's career already spans many fields, including film, television, and theatre. Previous credits include a guest spot in CBS' The Good Wife and the dramatic short, Empire Corner. As a graduate of the prestigious Juilliard School in New York City, Ms. Parris has already worked with such notable names as Jon Hamm, Julianna Margulies and Reese Witherspoon, among others. She has also trained under distinguished professors Richard Feldman and Wendy Waterman. During her time in undergrad, Teyonah performed in numerous productions, with Celimene in Moliere's The Misanthrope, as her favorite role to date.

When she is not acting, Teyonah supports causes close to her heart, such as empowering the youth to embrace their natural beauty. Ms. Parris also took part in the 'Designers Against Aids,' photo shoot for World Aids Day to raise HIV/AIDS awareness.

Teyonah Parris is currently living in Los Angeles.