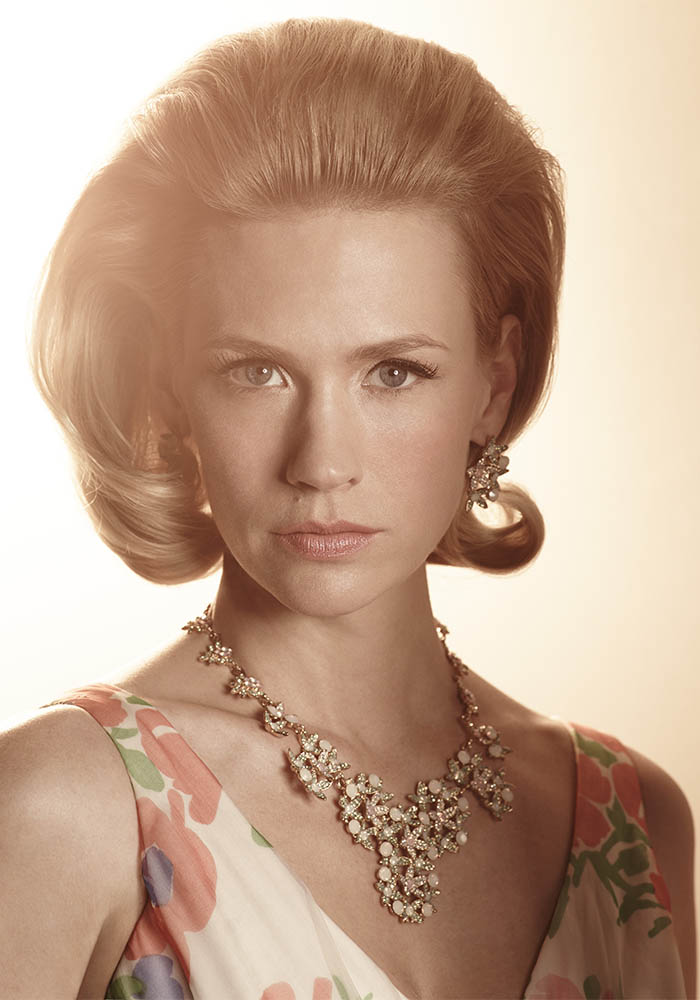 Betty knows how she is supposed to behave as the perfect housewife and mother, but something about it feels wrong to her. She enjoys the excitement and glamour of her marriage to Don, but his dishonesty proves too painful to endure. Instead she seeks stability with the old fashioned politician, Henry Francis. Betty struggles to understand and be understood by her children, but ultimately feels rejected by both Sally and Bobby, and fears it is only a matter of time before little Gene does the same. After years of living as she had been told she should want to, Betty grows tired of keeping her opinions to herself, finally demanding to be heard.

January Jones' portrayal of Betty Draper earned her a 2009 Golden Globe® nomination for Best Performance by an Actress in a Television Series – Drama. She will next be seen in the drama Good Kill opposite Ethan Hawke, set for release in 2015, and will soon begin production on The Shuddering, a supernatural thriller directed by George Ratliff.

In 2013, Jones starred in Sweetwater opposite Ed Harris and Jason Isaacs. In 2011, she portrayed Marvel superhero Emma Frost in X-Men First Class and starred opposite Liam Neeson and Diane Kruger in Unknown. In 2009, Jones starred in Pirate Radio opposite Academy Award® winner Phillip Seymour Hoffman and Academy Award® nominee Kenneth Branagh.

Jones' previous work includes the 2006 critically acclaimed festival hit Swedish Auto, Warner Bros.' We Are Marshall, Sony Classic's Three Burials of Meliquiades Estrada, Universal's American Wedding and Love Actually, Sony's Anger Management, and MGM's and Miramax's Full Frontal, directed by Steven Soderbergh.

Jones currently resides in Los Angeles.
Betty Francis Quotes
I know people say life goes on, and it does, and no one tells you that's not a good thing. Why is that?

EP 110 "Long Weekend"
Somewhere there's a pregnant girl floating in a lake.

EP 203 "The Benefactor"
Arthur: "You're so profoundly sad."
Betty: "No, it's just that my people are Nordic.

EP 203 "The Benefactor"
I'm here all day alone with them. Out-numbered!

EP 204 "Three Sundays"
I would never do this to you. How could you do this to me?

EP 208 "A Night to Remember"
Go bang your head against the wall. Only boring people are bored.
What's a matter Don? Don't know where you will be in three years?
You don't kiss boys, boys kiss you.

EP 308 "Souvenir"
I hate this place. I hate our friends. I hate this town.

EP 308 "Souvenir"
If the clothes from that dry cleaning bag are on the floor of my closet, you're going to be a very sorry young lady.

EP 3 "The Ladies Room"