Uncategorized
Q&A – David Costabile (Simon Boyd)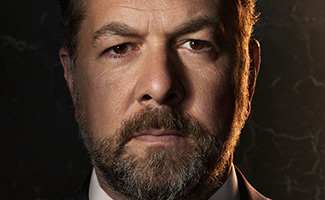 David Costabile, who plays Simon Boyd on AMC's Low Winter Sun, talks about the influence of teaching acting on his own work, fan reactions to his character, and the final season of Breaking Bad.
Q: You're one of several actors on the set of Low Winter Sun with experience on stage. How does that affect your craft? Did it influence your performance on the show?
A: One of the things I find really translates incredibly well is an actor's ability to listen and not be afraid of what's happening. You really begin to welcome changes or differences or certain things that you weren't expecting, and the possibility of it being something new is something very profound. Because I spent a lot of time in the theater training that particular aspect, I'm able to do it with great ease now. Your ability to listen very intently is more honed. When there are a bunch of people like that, you know there are kindred spirits — that in addition to someone's ability to do it, there's the interest in it being alive.
Q: Boyd is hot on the trail of Geddes and Frank. Who were you rooting for while filming the show?
A: Me! I'm rooting for Simon. I want him to win. I hope that he nails them.
Q: You used to teach acting at NYU. How does that affect your work on a show like Low Winter Sun?
A: I taught for about ten years, and the year before last I stopped teaching. There was something very fun to me about being a working professional and being a teacher at the same time, because it kept you honest. It's quite a challenge because you'd teach different things at different points in the day and then be like, "Oh shoot, I have to do it." And you know the students are there to witness it too, and really see if you're putting your money where your mouth was.
Q: Does teaching acting make you hypercritical of your own performances when you watch your work?
A: I was hypercritical of my work even before I was a teacher. Certainly you develop the skills while you're a teacher of watching certain things where you can't necessarily poke holes in it, but you can be like, "Maybe you should try to do this a little better." So my ability to see my own inadequacies is sharp.
Q: Are you enjoying your performance on Low Winter Sun?
A: It depends on whether you mean my own personal critique of my own work, or my critique of my work that I would let other people know. I feel like I'm doing great and I like it so far. I think on many levels, I accomplished what I set out to do.
VIDEO: Inside Episode 110 Low Winter Sun: Surrender
Q: Did you watch the final season of Breaking Bad?
A: Oh yeah, are you kidding? In addition to the fact that I feel very proud of that whole story, I'm a huge fan. I just love the show. As I was watching the penultimate episode I was getting a little sad that the story's almost over, like, "Oh wait, I don't get to live with the characters and that place and that weird world that they've created." But I had to say it's been very satisfying; I've always found that that show is messed up and disturbing, but it's also deeply satisfying.
Q: Critics have noted how your portrayal of various characters seems to always make you a fan favorite. Why do you think that is?
A: Is that true? I don't know! I did not know that's true. I'm very flattered by that idea. I certainly love a lot of the characters that I've played, and I think that's a very kind thing. I don't have a particular secret sauce formula.
Q: What kinds of stuff have you heard from fans of Low Winter Sun about Boyd now that Season 1 is almost complete?
A: People who know me are actually like, "That guy is such a dick. He's a total douchebag." And I'm like, "Thank you, I appreciate that. I like that, that's good. I'm happy with that." Sometimes you get fans who've seen both Breaking Bad and Low Winter Sun and they're very confused. They think they see Gale, and then they'll be like, "I don't understand it. I don't like you, or I do like you?" It just short circuits their brain. They can't figure it out, which I think is good, too. And then I was recently over in Ireland. Low Winter Sun hadn't started to play there, but Breaking Bad was quite popular. Everybody was totally on it. I would walk into a pub and people just couldn't believe their eyes. They'd be like, "Gale, what are you doing here? How could you be here?"
Read an interview with Mark Strong, who plays Detective Frank Agnew
Read More