Uncategorized
Low Winter Sun Executive Producer Chris Mundy Answers Fan Questions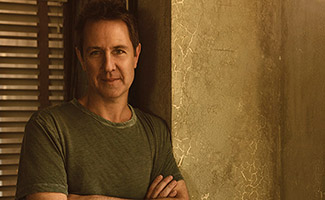 Low Winter Sun Executive Producer, Showrunner and Writer Chris Mundy talks about other places he considered setting the series, making the decision to kill off a major character, and how his background in journalism influenced the show.
Q: I'm a former D.P.D. cop. Do you or anyone of your staff have current police input on content? ­– Mark H.

A: I spent a whole lot of time in Detroit in the time leading up to it, and there were a couple cops who were really helpful in terms of talking me through stuff and taking me around to see parts of the city that you wouldn't normally get to see. One guy, Ira Todd — who ended up being our technical advisor later — the first thing he said to me was, "Do you want to see Detroit, or do you want to see the real Detroit?" I was lucky to get pretty hands-on. There was a guy named Manny Martinez that used to run homicide, he took me around a fair amount and introduced me to a lot of people. There was actually a benefit for an officer who was involved in a very controversial shooting there that they had at the Gaelic Hall, the same place where we filmed Brendan's wake in Episode 3. Manny took me there, and there were hundreds of cops there. Ira took me on a raid of a blind pig. He was the lead undercover, and there was a SWAT takedown at about four or five in the morning of a blind pig just off Woodward Avenue. Even while we were filming the Pilot, all the actors and [director] Ernest [Dickerson] and I went up to Ira's house for a cookout with ten or so cops. We sat around eating and drinking all day and trading stories. I feel like the access we had to people to get the truth and the real stories was pretty great.
Q: Can you expound upon the depth of Frank's desire or obsession for Katia?  ­– Will
A: For us, one of the central things is that there's not a lot from the original, which was only two parts. For us it was always sort of a two-pronged thing. The scene with his wife in Ann Arbor in Episode 9, we talked about that in the first week when all the writers were together. We wanted to understand that in some ways, emotionally, his obsession with Katia was about this failed marriage with his ex-wife, and wondering if he could only love something that was broken, and whether or not other people were going to be able to love him.
Q: What were some other cities you considered setting the show in? – ITal
A: I briefly considered setting it in New Orleans; I wanted a city that was looking for a second chance, like some of the characters were. But it was Detroit pretty quickly.
Q: Why did Joe not want Frank and Katia to be together? ­– skier5
A: I don't think that Joe didn't want them to be together, he just knew that she was the one thing that could undo them. If she was found, if Boyd could find her, their whole story could unravel and they'd go down for the crime. So his point was, she's safest if she's not found and Frank doesn't find her. There's a moment in the finale where Frank says "I killed Brendan, I killed Katia," and I think he believes that if he had just left her alone, she'd still be alive.
Q: Why did you kill Damon? – Sal P.
A: That was a really hard decision, probably the hardest decision of the whole year. Skelos had sort of orchestrated a truce, but once he was dead, that firewall was gone. We always liked this idea, all the way back at the beginning of the season. Maya gives Damon a warning and says, look, this is a black man's town, and we always wanted Damon to be a guy who was punching a little bit above his weight and trying to pull off something that he wasn't quite ready for. There's always someone a little bit higher in the pecking order than you, and he forgot about Reverend Lowdown. It was a hard decision, but we felt like it was the thing that would happen.
Q: How difficult is it to write a character out of the series? – Justin P.
A: It's easy when you do the writing, but it's hard when you make the decision, especially because we had a really tight group of actors. So talking to [James Ransone] about that was hard, but it's purely story. Personally and professionally I love him, but we felt like it was the right decision for the story.
VIDEO: Inside Episode 110 Low Winter Sun: Surrender
Q: My wife pointed out that there are never any patrons at The International, just Maya, Damon and Nick. Shouldn't there be some paying customers? – kriegrelic
A: Two things: One, we almost never shot The International at night, so there's not a ton of daytime drinking. But also, a lot of those places right down there in Greektown get crazy busy when the Lions and the Tigers are in town, but are a little less so otherwise.
Q: You wrote for Rolling Stone for more than 10 years. How do your skills as a journalist inform your screenwriting perspective? – Eli
A: They were more equitable then I would have guessed. I used to do a lot of profiles, and when you do those you're trying to show things, not tell about them. You're really writing scenes; it's journalism, but you're watching and observing and trying to find the things most telling about the person. Same thing with the dialogue. So in some ways, these scenes are very similar. There's a certain flow you want. I kind of think about TV scripts and movie scripts almost like albums — you want a fast song and then a slow song and then you want some variants. If it's the same song, it starts to get boring. And I think in those pieces you'll do the same thing. I think they were strangely suited for each other. And you're already ahead of the game if you can hit a deadline!
Read an interview with James Ransone, who plays Damon Callis
Read More