Uncategorized
Detroit: On Location (Low Winter Sun Episode 9)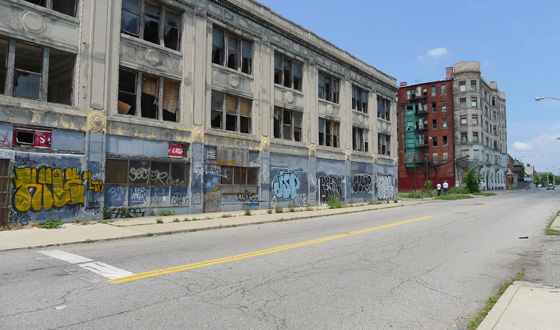 Low Winter Sun Production Designer Ruth Ammon is responsible for scouting the city of Detroit for the series. This week, she discusses the Cass Corridor, the neighborhood used for the street scenes with Frank's ex-partner (and Maya's ex-husband) Sean Foster.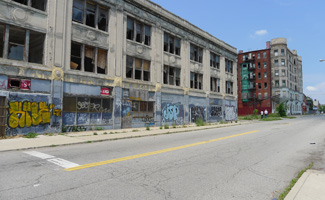 Cass Corridor
Location: Temple Street and Cass Avenue

We were drawn to the Cass Corridor even before we had scripts. Just west of Woodward Avenue, Cass used to be a back route out of downtown Detroit. It has the ultimate Low Winter Sun "toothy" cityscape, with two Italian Renaissance-style buildings towering alone in empty lots and streets. Once nice apartment buildings, they are now scrapped shells.
The blighted landscape is filled with vacant lots and boarded-up commercial and residential buildings, which were Victorian, Neo-Gothic, Romanesque and Art Deco in style. There's clearly a history to this neighborhood, but it's now kind of a ghost town. We actually came up with one of our visual themes — of always having a singular background figure slowly walking through the frame — while exploring this area.
Like with the location for The International, our shooting schedule in the Cass Corridor revolved around local sporting events because the streets would be lined with cars and busy with commuter traffic on event days. The vacant lots became parking lots and tailgating parties. There were mostly friendly locals passing through, but at the Temple Hotel, an infamous flophouse that recently sold for millions, there was a bit of shouting and brick-tossing while we were working next door. One time, a Temple Hotel tenant cursed me out as a "F—ing creativity whore!" which I rather liked.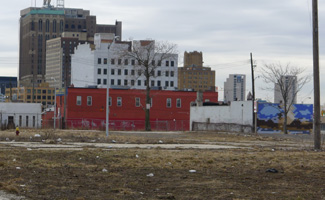 For the most part we shot this neighborhood as is — though, due to legal restrictions, we had to paint graffiti over the existing graffiti and street art. Our set dressing team, headed by Nathan O'Reilly, would clear out the bottles and broken glass wherever we staged the actors. We would also bring in sofas, mattresses and miscellaneous furniture to tell the story of people having once lived there.
The area has been through various incarnations. Once home to the affluent in the Victorian era, it became a site for automotive businesses in the 1930s. When the bourgeois moved out and the automotive industry scaled down, it transitioned into a working-class environment. Eventually in the '70s and '80s it became a very dangerous area where drug-dealing and prostitution were rampant. On our first scout, a stylish middle-aged woman introduced herself to us and pointed out a lovely but completely destroyed large house. She explained that she had lived there as a young woman, a prostitute, and her working name was "Sparkle."
Today, Cass is considered one of the poorest areas in Detroit, but you can sense change on the horizon. Along with the homeless and some low-income housing, there is an art scene. The street art and graffiti can be seen along the face of some impressive apartment buildings. Also, during our time there, it was announced that 45 blocks of the old Cass Corridor would be slated for construction of the new Detroit Red Wings stadium, along with an entertainment center, retail businesses and residential units.
View additional photos of the Cass Corridor >>
Read the Detroit: On Location column from Episode 8, in which Ruth talks about the location used for the courthouse and the Detroit Police Department rooftop and entrance >>
Read More