Uncategorized
Detroit: On Location (Low Winter Sun Episode 10)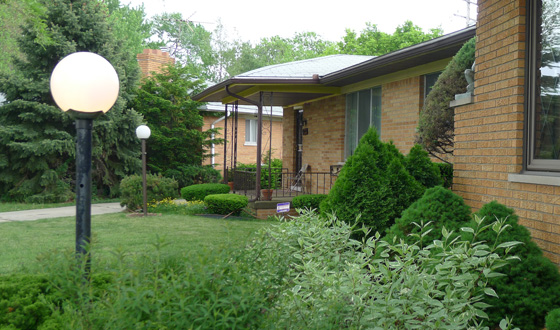 Low Winter Sun Production Designer Ruth Ammon is responsible for scouting the city of Detroit for the series. This week, she discusses the location used for Damon and Maya's house throughout the series.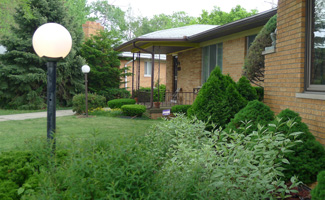 Damon and Maya's House
Location: John F. Kennedy Place in Highland Park
Sometimes the only way to find something unexpected is to just keep driving. When we first started scouting, I was new to Detroit and didn't know the neighborhoods — and I didn't have a specific idea of what we wanted for Damon and Maya's house. I spent a few days driving around with Steve Schlick, the assistant location manager on the Pilot. A few miles outside downtown Detroit, Steve started looping around an old Ford plant that closed down in the '50s. To my surprise and amazement, he then turned a corner and brought us to a small, isolated '60s suburban subdivision.
Unlike many of the other neighborhoods we shot, there were no abandoned or burnt-out homes here. Yards were maintained and neighbors knew each other. There were cars in every driveway. It was a little pocket of well-being. The neighborhood was designed as a series of oval-shaped cul-de-sacs with optimistic '60s names like John Glenn Place and John F. Kennedy Place. Like the Tudor trap house in the Morningside neighborhood, these ranch-style homes were meant to be a step up towards a promising future. The interiors were vintage '60s and had great open floor plans.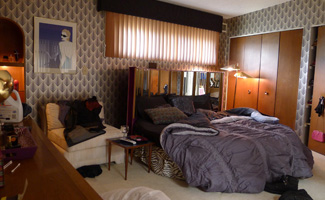 We were looking for a house and neighborhood that would stand apart from the older architecture of Frank and Geddes' homes. We imagined that the house belonged to Sean, Maya and their two kids before Sean's downfall, so it needed to be something appropriate for a detective's family in an established community. We also wanted an edginess that would illustrate some of Damon and Maya's bad dealings and tentative position in the community.
We ended up finding a single-story modern house with the closed-down Ford factory looming in the background. The brick exterior felt kind of tough and hard. There were no fussy embellishments other than some shaped shrubs and clumps of spider plants.
On the inside, we liked the masculine aspect of the wood panel walls. We added to the sexy swinger vibe that the walls and architecture provided by glamming it up with mirrors and gold metallic frames on '80s-styled artwork. Vintage metallic wallpaper was added to the bedroom and bathroom. We also created a surface mess that increased with the intensity and panic in their lives: The bed with the fantastic mirrored headboard was always unmade, the mail untouched, wine glasses and beer bottles left on table tops, and clothes left on chairs or just dropped to the floor.
View a gallery of Detroit: On Location photos >>
Read the Detroit: On Location column from Episode 9, in which Ruth talks about the streets of the Cass Corridor where Sean has been living >>
Read More