Tune-In Alert: Special Start Times for Upcoming Low Winter Sun Season 1 Episodes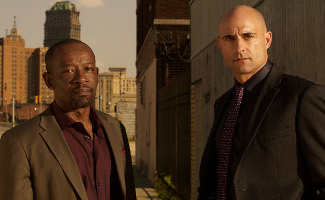 Low Winter Sun fans: Set your watches (and your DVRs if need be) so you don't miss the remaining episodes for Season 1, all of which will air at special times.
This Sun., Sep. 22, Low Winter Sun Episode 7, "There Was A Girl," will begin at 10:15PM/9:15c, following an extended episode of Breaking Bad.
Next Sun., Sep. 29, Low Winter Sun Episode 8, "Revelations," will begin at 11:15PM/10:15c, following an expanded one-hour episode of Talking Bad.  To serve Low Winter Sun fans who want to watch on a regular schedule, "Revelations" will also be available to fans via AMC On Demand beginning Mon., Sep. 23 (one week prior to its premiere on AMC) on both Video On Demand and TV Everywhere platforms.
On Sun, Oct. 6, the two-hour Season 1 finale of Low Winter Sun will begin at 9PM/8c.
View the complete Low Winter Sun schedule
Read More