Interviews
Q&A – Trevor Long (Sean Foster)
Trevor Long, who plays Sean Foster on AMC's Low Winter Sun, talks about the pleasures of being dirty on set and why he was so comfortable playing his character.
Q: You play a former cop turned homeless person in Low Winter Sun. What kind of research did you do for the role?
A: I connected with drug treatment centers in New York. It was hard to get them to talk to me, but I did. I talked to them about some of the symptoms and behaviors of withdrawal and addiction in general. As far as the homeless, I just watched, in New York or even in Detroit, where there were plenty right outside my hotel. Sean really came to life when I put his shoes on. I put these shoes on with no laces, and all of a sudden this walk started to happen. It was great.
Q: Your background is in theater. What brings you to the world of TV?
A: I knew one of the staff writers, Brett C. Leonard, who wrote the first episode I came in on, Episode 4. He knows my work, we've done a lot of plays together. We're in the same theater company in New York, Labyrinth Theater Company, and I've done some plays of his in London and New York. We're very close friends. He told me, "I'm writing this character, and I think you'd be really good for it," and he brought me in. He got me an audition, I put myself on tape, and he got them to watch it. So it's pretty sweet. Ron C. Jones, who's playing Reverend Lowdown, is also a Labyrinth guy, and Brett brought him in, too. This is my first television show.
Q: How is television different from working on stage?
A: What I loved about doing this was that it was fast. You didn't have time to overthink it. The story was constantly changing. I literally booked a job, two days later I was on a plane, and three days later I started shooting with Mark Strong. I'd never worked that fast.
Q: As he talks to Frank, Sean is playing a hockey-like game. Was that a bit of your improv skills showing?
A: It kind of happened in the moment. Originally I was going to be throwing bottles out into the field. We kind of had this discussion of, maybe I was playing golf or something. And I played around with it and put a thing on the end of a stick, like maybe I'm doing this hockey stuff, trying to score. So we kind of found it as we were doing the scene. It wasn't planned at all. Sean is so unpredictable, that stuff can happen.
Q: Does it make you uncomfortable to play a character like that on TV?
A: No. Actually I'd be more uncomfortable playing Mark Strong's role, someone more straight. I like that I really got to become somebody else in a really full way. He's lost everything. To me, I can connect much better to a guy like that than someone who's seemingly in control.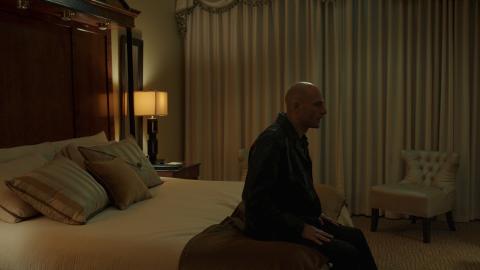 VIDEO: Inside Episode 104, "Catacombs"
Q: Did you enjoy the grungy look they gave you on the show?
A: I'd go into the wardrobe being like, "I'm not dirty enough!" I had my own bag of dirt that I brought. I'd put my hands in it and get my nails dirty. I told them not to wash my clothes. I loved it. The more screwed up I looked, the happier I was.
Q: Have you played any other down and out characters before?
A: Yes, actually with Labyrinth Theater Company. My second play with them was directed by Philip Seymour Hoffman. I played a character in a play called In Arabia We'd All Be Kings who was a heroin addict. He was similar to Sean in that he was once a guy who had it together and had an apartment and a girlfriend, and he lost it all. And he had a heroin addiction. He was a kid, like a young Sean. And that helped.
Q: Are you hoping that Sean is going to get it together?
A: There's a lot of possibilities for Sean. I think it'd be cool and interesting to see Sean pull it together and get his life together.
Read an interview with Athena Karkanis, who plays Dani Khalil
Read More