Uncategorized
Q&A – Sprague Grayden (Maya Callis)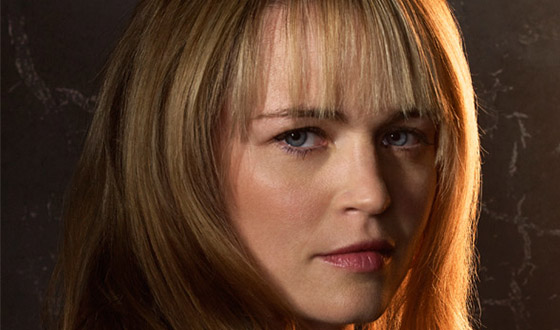 Sprague Grayden, who plays Maya Callis on AMC's Low Winter Sun, talks about Maya's past, going blonde, and being a self-professed "all around nerd."

Q: Maya runs The International bar. Have you ever tended bar yourself?
A: Yes! I used to bartend in New York City before I got my first gig in L.A. I was flown out to L.A. to test for a show called John Doe, and then I flew back to get a few more shifts in at the bar before I moved to Vancouver because I wasn't going to get paid until the second episode. I was OK behind the bar, but I was a terrible waitress. I met amazing people while bartending. One of the last places I tended bar was a place called the Dakota Roadhouse — it was a couple of blocks from the World Trade Center, and most of the guys that came to my bar were construction guys working on the site.
Q: Was the Dakota Roadhouse anything like The International?
A: The International is kind of like it's own thing. It's kind of gritty but a little retro. The Roadhouse was kind of a false gritty bar — it was basically a sports bar. And at The International, I was pouring iced tea and apple juice.
Q: Maya has shown herself to be cutthroat and unforgiving. Could you relate to that at all?

A: Maya sees the world through different eyes. When I play a role, part of it is finding out what part of me is in a character, what can I think about to anchor me to their life. With Maya, what I really could understand was survival. She could be cutthroat, or she could just be smart.
Q: Maya's husband Damon is a criminal, and her ex-husband Sean is an alcoholic who is now living on the streets. How do you feel about Maya's taste in men?
A: Originally when [showrunner] Chris [Mundy] and I had spoken about Maya, his thoughts were about her past. He really saw her as growing up with cops and criminals, in this world where you could go either way really easily and there isn't a correct way. One of the things you see from Damon is that he's trying to work his business on a certain moral level. You don't necessarily see that from Joe Geddes. So there are some moral grey areas.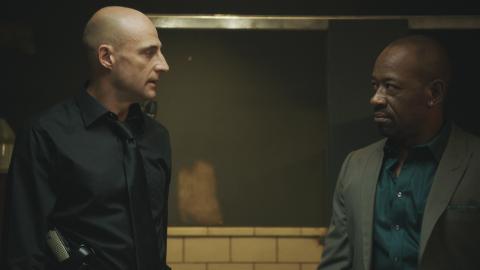 VIDEO: Inside Episode 107, "There Was A Girl"
Q: You're a blonde for the show but a brunette in real life. Have you ever gone blonde before on your own?
A: No! I am extremely grateful to White Collar, which hired me to play a young Judith Ivey in flashback sequences. It was a great experience, but they asked me if I would go blonde. I came back after doing a couple episodes and I got Low Winter Sun. And then I got married blonde! It was very weird.
Q: Do you find people treat you differently as a blond?
A: Yes! I'm not necessarily a very recognizable person. However, if I go outside from the gym in my sweats, I'm going to get recognized by someone, it's just Murphy's Law. But when I went blonde, it was just this whole new sense of freedom. Nobody knew who I was, it was great. When I was in New York, I was walking down the street and some guy started hooting and hollering at me. I was like, "Wow, that is amazing. I lived in New York for years and that never happened to me before!" My mom is very excited because she's blonde, so I finally look more like her than my father.
Q: Your Twitter bio says you're a "geek" and "all-around nerd." How so?
A: In my condo right now there is a Doctor Who cookie jar. There's a Rogue figurine next to that from when I got to tour Marvel, which was awesome. Then we have full Star Wars helmets, full Halo helmets — I mean, we're just geeky, in sci-fi and fantasy. I'm really into shows that have a lot of mythology. I was a huge Battlestar Galactica freak. I love classic Star Trek. I love X-Men. My husband is really into video gaming and sci–fi. He's a concept designer. We are so not cool! He'll play magic for, like, 12 hours.
Q: Maya is completely comfortable amongst Damon and his crew. Are you comfortable with hanging out with groups of macho men? 
A: Later in my life, I've had great female friends, but in elementary and high school, I mostly had guy friends. And I still have three best guy friends from high school who I'm still in touch with. I've always been a bit of a tomboy. Makeup confuses me, though I wear it for work.
Read an interview with James Ransone, who plays Maya's husband, Damon Callis
Read More