Uncategorized
Q&A – Ruben Santiago-Hudson (Lt. Charles Dawson)
Ruben Santiago-Hudson, who plays Lieutenant Charles Dawson on AMC's Low Winter Sun, talks about playing cops and returning to his old stomping grounds in Detroit.  
Q: You've previously played several cops and detectives. Why do you think that is?
A: In Hollywood they're interested in that which you do very well. That's a good thing, because it keeps you working. They haven't seen the hundreds of plays I've done on and off Broadway, so they haven't seen me do Shakespeare, and most of them haven't seen me do August Wilson. But they have seen the cops that I've played, and it's an honor to be continuing to let that light shine on the cop aspect of my personality.
Q: How is Lt. Dawson different than the cops you've played before?
A: I'm not a method actor, but I'm a big research kind of actor. I base everything on things I know in life. But what I needed to focus on in this is the part of me that's a human being, not so much the part of me that's a cop. This character, Lt. Charles Dawson, is just a human being and a man that's trying to do the best he can in life. He's concerned about keeping his family together and protecting the people that surround him. I don't have to research humanity, I just have to be courageous enough to share that part of myself with everybody.
Q: Have you previously worked with anyone from Low Winter Sun?
A: I haven't worked with him, but I've known David Costabile for a long time and appreciated his work. I've known [showrunner] Chris Mundy. And I've known [Endemol Studios Head of Creative Affairs] Jeremy Gold for quite some time, but we haven't had the opportunity to work together. I was just delighted to have the opportunity to share scenes with Lennie James and Mark Strong, and meet some new actors like Sprague [Grayden], Athena [Karnkanis] and James [Ransone].
Q: Did the cast do anything to get to know each other and build some camaraderie?
A: Almost any day we'd text each other, "Have you eaten yet?" "Do you want to get a beer?" or, "Let's go to the museum or a poetry slam." The cops were on a different schedule than the robbers, so we hung out as a unit more than we did with them.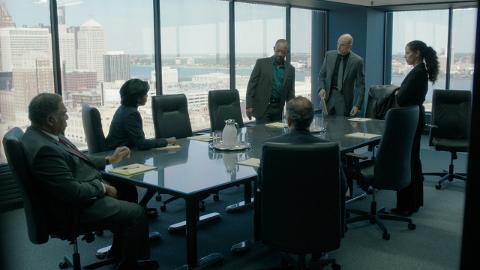 VIDEO: Inside Episode 105, "Cake on the Way"
Q: Did you ever consider becoming a cop, or any other profession, before you decided to be an actor and playwright?
A: No, I've never considered being a cop. I could be a teacher, I could be a minister, a social worker or a professor. As long I don't have to see blood and see people die every day, if I could inspire or help in their lives, that's something I'd want to do.
Q: You received your Masters degree at Wayne State University. What was it like to be back in Detroit?
A: It was really amazing. It just filled me to bursting with memories and joy of times that I spent there, the good and the bad. So I was very excited about being in Detroit. I strolled campus a lot, because it has developed tremendously. Another thing that I do still enjoy is the Detroit Institute of the Arts Museum and the Charles H. Wright Museum of African American History. Those places continue to excite me.
Q: Lt. Dawson serves as an intermediary between the I.A. inspectors and his own guys as much as he can. Have you ever been in a similar role?
A: Yes. You know, I'm a father. I'm a brother. I'm a son. And I'm a grandfather. So many times I have to be the intermediary, the person to referee and help solve disputes and to protect and to guide. I don't have to recreate something that doesn't exist. All I have to do is be really invested in what I know.
Q: Tell me a little bit about Lt. Dawson's office. Did you add any personal touches to it?
A: No. We have an amazing set department. [Production Designer] Ruth Ammon is just amazing. She really authenticated that set, and it's based directly on the Detroit police department. It's that much in disrepair and disarray. These are the conditions that they have to survive and maneuver in each day: the lack of equipment, paint peeling, bathrooms needing attention. This is not the Beverly Hills police department. This is not L.A. This is not New York. This is Detroit.
Read an interview with Trevor Long, who plays Sean Foster
Read More