Interviews
Q&A – Mickey Sumner (Katia)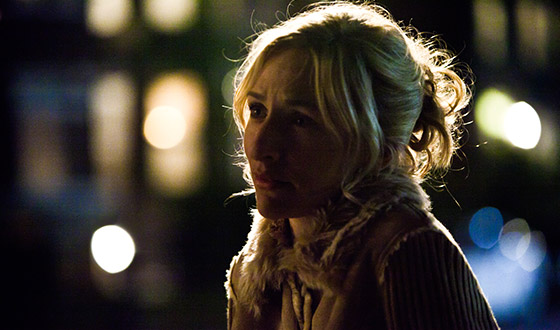 Actress Mickey Sumner, who plays Katia on AMC's Low Winter Sun, talks about nailing a Romanian accent and reveals which cast member is an amazing dancer.
Q: How much did you know about Katia when you first accepted the role?

A: I knew that she was Frank's love interest, and that she was a lady of the night. [Laughs] And that she was in a pretty violent, awful situation. The project on the whole was very attractive to me. I read the pilot and I couldn't shake it. It stuck with me even after the audition, and that rarely happens. And, of course, the cast, with Mark Strong and Lennie James.
Q: What about the character attracted you to playing Katia? 
A: I think there's a vulnerability to her, and a real toughness. Those girls are not fragile flowers. There's a real sadness into how a woman like Katia gets herself into a situation like that — comes from Romania to America probably thinking of a better life, and is then sold into an awful world in which she is sort of a slave. It's a real thing. Human trafficking is massive. The role is totally different from anything I've ever done. I'm in my underwear for a lot of these episodes, as well as being in these violent situations. I was really scared — and I try to do things that scare and challenge me.
Q: Tell me a little bit about Katia's accent. Was it tricky to nail down?

A: I had a coach, the amazing Kate Wilson, who really helped me. And I listened to a lot of tape of Romanian accents. At some point, when the cameras start rolling, you just sort of have to forget about it all and go with your gut. I didn't want to get to hung up on the accent and not focus on the scene.
Q: As the daughter of a prolific musician (Sting), does music inform your acting at all? Do you ever use it to get into character?
A: I sometimes listen to music to get into some place that I need to get. I don't think it's because I have a musician as a father that I do this — most actors do. I definitely was listening to music before [Episode 3, "No Rounds"], when I was bound and gagged. I have a song that I listen to that got me to that place. I'm not telling what it is. It has to be a secret. It feels so personal! I feel embarrassed even talking about it.
Q: There's some confusion for Frank as he searches for Katia. Have you ever been mistaken for someone else?
A: I have gotten texts from my friends like, "Did I just see you walking down Broadway?" and I'm like, "No… I'm in LA!" There must be some people out there who look like me, or I look like them. It's sort of a weird feeling.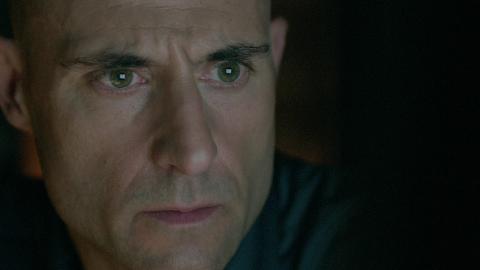 VIDEO: Inside Episode 106, "The Way Things Are"
Q: What have you heard from your friends and family about the show? 
A: I've gotten calls from people that watched [Episode 1, "Pilot"], and I guess they assumed that I was cut up. I had one friend who said he had to change the channel when Frank and Joe and Dani open the back of the car, and they say someone's been cut up. I told him, "You should have carried on watching, because it wasn't me!"
Q: Does Sting watch the show?
A: I'm not sure if my dad watches the show. I don't know if he'll want to see me in that situation. I have a really supportive family, which is really wonderful, but I'm not forcing everyone to watch my work every week. Maybe I'll buy them the box set for Christmas.
Q: What is your favorite memory of your time on Low Winter Sun?
A: What was really special about this crew was that the cast and crew and directors were amazing. We had two wrap parties. I'm not a lead in this, but I really felt like they took me in. We went out and we were dancing — Lennie James is an amazing dancer, by the way.
Read an interview Billy Lush, who plays Nick Paflas
Read More