Interviews
Q&A – Lennie James (Joe Geddes)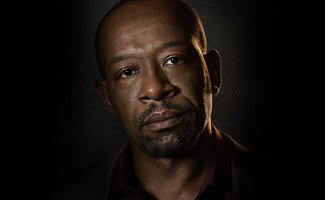 Lennie James, who plays Joe Geddes on AMC's Low Winter Sun, talks about the development of his character, his love of Motown, and how Joe Geddes would fare in the world of The Walking Dead.

Q: Joe Geddes appears to have morals as questionable as the criminals on the show. Did you have any compunctions about playing a character like that?
A: I think that actually as the show goes on, more of Joe's moral compass is explained. There are moments where there are remnants of the man he used to be, and the man he wants to be again. But a lot of the times, the situation he finds himself in gets in the way. So I don't necessarily think he's a morally bankrupt man, but I do think he's a morally challenged man. As for any reservations about playing him as such, I didn't have any.
Q. Have you contributed at all to the development of Joe's character or backstory?
A: The way these things develop, a good writers room takes on the challenge of writing for their actors. Hopefully, as the actor, you push the writers to explore different kinds of areas and present you with more challenges so you can reveal different aspects of your character. I think there is a way that Joe could have been played in that he's just at ease with the things he's done. I've tried to present the writers room with the challenge of making as many of his actions and choices as challenging for him as possible.
Q: Joe gets a crazy look when he talks to Boyd. What's going through your mind in those moments?
A: I love Joe's relationship with Boyd. And I love doing those scenes with David [Costabile]. What I like is that the writers have given Joe the chance to say to Boyd whatever is on his mind, and that's always fun. There are interactions written where you get to tell the truth as you see it, even if that truth is hard and harsh and unfriendly. And these two guys just don't like each other. Joe's trying to find a way to knock Boyd off his game, but he can't find it, because Boyd is too good.
Q: Joe is often tired or hung over, yet he always looks like he's got a fresh set of clothes on. What do you think of his sense of style?
A: I think his secret is that he lives with his mum, as far as his clothes are concerned. Every time he opens his wardrobe, there is a least one freshly cleaned suit. And he has a fine number of suits. Members of the crew who are from Detroit would say to me often that Joe dresses "very Detroit" with his gator shoes, color-coordinated suits and shirts, and the nature and color of his shirts in particular. I wouldn't dress that way myself, but that doesn't matter; he's the one that counts. It became something that I took some pride in for the same reasons that Joe does — whatever happened the night before, he needs to look like everything is OK, even if it is not.
VIDEO: Inside Episode 108 Low Winter Sun: Revelations
Q: Mickey Sumner (Katia) mentioned that you're a good dancer. Is that true?
A: Given the right situation and the right music, yeah, I like to dance. I'm of a generation that was all about going out and dancing. It was something you did on a Friday or Saturday or Sunday night, and it was about impressing the girls with your moves. It's slightly changed now and it's all about bobbing your head and staying in your spot, but there was a point when it was about cutting a rug. Every now and then, I have been known to take to the dance floor. I like soul music, Motown, funk, Earth, Wind & Fire — music that's there to be danced to, as opposed to admired intellectually.
Q: Did you track down some Motown landmarks in Detroit?
A: Of course I did! I went every single chance I got. I went to the Motown Museum, and Detroit has also got the largest museum of African-American history, so I went there. I visited the mansions that Motown built and where all the stars used to live. When I discovered Motown through my parents, that's all I played every night, so being in the hometown of all that music, I lost my mind! That stuff kind of moves you.
Q: Can you tell us anything about whether we'll be seeing Morgan Jones on The Walking Dead again?
A: I genuinely have no idea. As always happens with shows like that, that decision is not mine.
Q: How do you think Joe Geddes would fare in the world of The Walking Dead?
A: I think he'd run out of bullets. And I think he'd just be left defending himself with the Word and the cross that he wears around his neck. I don't think he'd fare very well, really. I think he's from a very different planet, Joe. I think he'd be one of those people that barricaded themselves in a room and probably starve to death, not even having the benefit of coming back as a zombie.
Read an interview with David Costabile, who plays Internal Affairs officer Simon Boyd
Read More