Press
Mickey Sumner Spotlighted by ET, W; Mark Strong Books Movie Role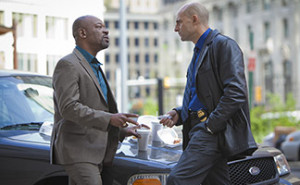 This week, Mickey Sumner is spotlighted by both Entertainment Tonight and W Magazine, while Mark Strong books a movie role. Plus, Lennie James talks travel with The Independent. Read on for more:
• Entertainment Tonight highlights a clip of Low Winter Sun featuring Mickey Sumner, the daughter of Sting and Trudie Styler.
• Mickey Sumner is named a member of Generation W by W Magazine, which mentions her part on the "gritty" Low Winter Sun.
• According to The Hollywood Reporter, Mark Strong has been tapped to join the cast of Morten Tyldum's The Imitation Game.
• Lennie James talks to The Independent about his travel experiences and proclaims, "It's fun to get lost in new places."
• Variety reports that Low Winter Sun will be broadcast in parts of Europe, as well as Asia, on Sundance Channel Global.
• Antipodal Arapaima highlights a clip of Season 1, Episode 7, "There Was a Girl," which airs Sept. 22.
• Playbill.com interviews Ruben Santiago-Hudson and several other actors who are involved with readings of August Wilson's American Century Cycle plays. Santiago-Hudson is the project's artistic director.
• For recaps and reviews of Season 1, Episode 6, "The Way Things Are," check out Celeb Dirty Laundry, Deadline Detroit, IGN and TV Fanatic.
• To stay up-to-date with all the latest Low Winter Sun news, sign up for the weekly The Lowdown.
Read More