Press
Lennie James Chats With Sydney Morning Herald; Sprague Grayden on AfterBuzz TV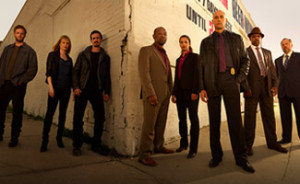 This week, Lennie James chats with the Sydney Morning Herald about Low Winter Sun. Plus, Sprague Grayden talks Episode 7 with AfterBuzz TV. Read on for more:
• Lennie James tells the Sydney Morning Herald, "There were moments I was utterly and totally flabbergasted by where they take not just my character but some of the other characters."
• Sprague Grayden, chatting on AfterBuzz TV's Low Winter Sun aftershow, characterizes Maya as "not really one to wallow. She's gonna survive."
• For recaps and reviews of Season 1, Episode 7, "There Was a Girl," check out Celeb Dirty Laundry, Deadline Detroit, IGN and TV Fanatic.
• To stay up-to-date with all the latest Low Winter Sun news, sign up for the weekly The Lowdown.
Read More