Uncategorized
Detroit: On Location (Low Winter Sun Episode 7)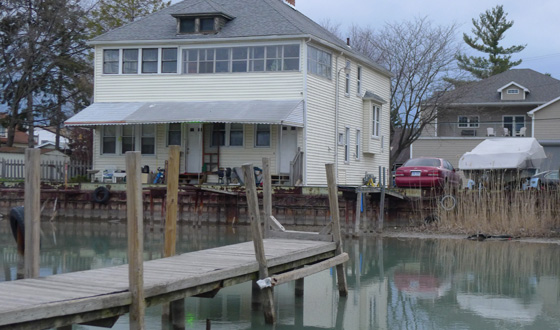 Low Winter Sun Production Designer Ruth Ammon is responsible for scouting the city of Detroit for the series. This week, she discusses the location used for Joe Geddes' house seen in Episode 7, "There Was a Girl."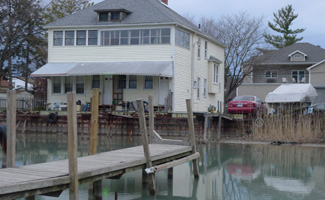 Joe Geddes' House
Location: Klenk Street in Mariner Park
Scouting is truly one of the joys of being on location in Detroit. Even on our rare down days, we were out searching, hoping to discover new shooting locations. During one of our early days off, I went on a research expedition with the show's lead painter, Casey Stoll. We started downtown and worked our way up Jefferson Avenue, ducking into random roads that we hoped would lead us to the Lake St. Clair and Detroit River riverfront. At the very top of the Jefferson-Chalmers district, on the border of Grosse Pointe, we discovered a unique neighborhood of canals and small bridges. Everyone had access to the waterway from their backyards. There were motorboats, kayaks and barbecue grills at every house. It was the old Key West of Detroit! Later that week, our producer Charles Carroll found the same area on his own. We all agreed that we would scout for Joe's house in that neighborhood.
We wanted an environment that showed another side of Joe's character. Like many of Detroit's finest, Joe needed a place to relax and get away from the intensity of the job. Klenk Street feels like an off-the-grid weekend spot, a perfect escape for Joe. We looked at several houses around the canals and settled on a two-story colonial cottage with a screened-in porch, offering an unobstructed view of the Detroit River. We figured the porch would be Joe's room to kick back, listen to music, sip a beer, look out at the water. More importantly, we discovered that by positioning the camera across the canal, we were able to get a lovely wide shot of the more interesting back of the house — with the water and Joe's boat in the foreground.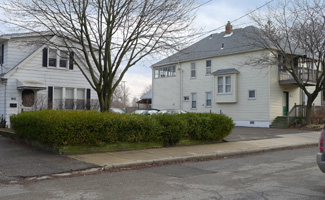 There were some challenges to shooting on Klenk Street. Since it's a dead-end street accessed only by a small bridge, the road is very narrow. It's difficult to turn a vehicle around, so we really had to seek the cooperation of the close-knit neighborhood. Luckily our location department was diligent, and since we had scouted several other houses by then, we knew most of the residents by their first names.
According to one of the residents, the canals were once used as a smuggling route for Prohibition bootleggers to bring liquor in from Canada. The U.S. Border Patrol was a constant reminder of our proximity to Canada, since Lake St. Clair and the Detroit River separate the U.S. from Canada. We were stopped and questioned several times, so the U.S. Border Patrol became quite familiar with our white scouting van.
View a gallery of Detroit: On Location photos >>
Read the Detroit: On Location column from Episode 6, in which Ruth talks about the location used for Reverend Lowdown's house >>
Read More