Uncategorized
Detroit: On Location (Low Winter Sun Episode 5)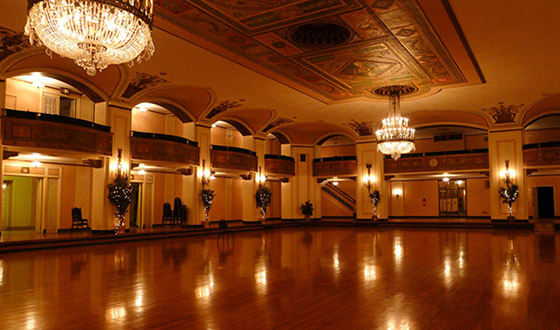 Low Winter Sun Production Designer Ruth Ammon is responsible for scouting the city of Detroit for the series. This week, she discusses the ballroom used for the boxing match in Episode 5, "Cake on the Way."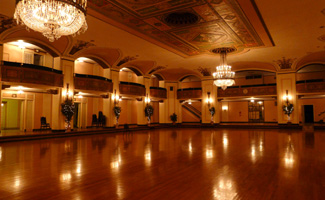 The Masonic Temple
Location: 500 Temple Avenue
While driving through the Cass Corridor district during the scouting phase of the Pilot, we would often see a massive block of a building silhouetted in the background of the otherwise empty and derelict neighborhood. From the front, the building looked like a colossal Gothic school. From the back, it presented a huge, flat blank wall with a few windows. It was the Detroit Masonic Temple, and we were desperate to get inside for a look.
Later on, our series location manager, Tom Moisides, suggested a preliminary scout of the various neighborhoods and buildings he knew and loved in Detroit. This initial process helps us build a visual language for our team and creates a location library for the series. It's also great fun to explore possibilities for upcoming scripts and meet the people of Detroit. It was during this scout that we conducted our first preliminary tour of the Masonic Temple. It was three hours long, and there was still so much more to see — there are over a thousand rooms. Inside we saw beautiful limestone walls, marble floors, figures and plaster details sculpted by Italian craftsmen, wood-paneled rooms, theaters, and a swimming pool. There were many possibilities for settings on the show.
The Masonic Temple was built in the early 1920s and is considered the largest Masonic Temple in the world. The building is neo-Gothic on the exterior, with tall, sweeping windows along the front façade and castle-like turrets. Today it's used for all types of events: music, theater, weddings, conferences. It's also home to the Detroit Derby Dolls and remains a hall for the Masons.
The boxing event was a night out for our Detroit P.D. characters — an evening for cops and the community to watch and support a local fighter. The scene was an opportunity to get the detectives out of their sad, worn offices into an historic and elegant setting, so we were looking for an unexpected and dramatic space. We chose the Crystal Ballroom because it was a nice contrast to the rugged brutality of the fight scene. The room is painted pink and creamy white with 19th-century detailing on the ceiling. The bronze balconies with vaulted arches provided an architecturally graphic frame to fill with spectators on two levels. It was important to see the fans. Our favorite elements, of course, were the chandeliers. We loved the quality of light from the crystal beads in stark contrast to the sweat flying off the fighters. The ballroom was also the right size for the event we imagined. We wanted it to have a local vibe, patrons of the high and low of Detroit, evoking nostalgia for another time.
View a gallery of Detroit: On Location photos >>
Read the Detroit: On Location column from Episode 4, in which Ruth talks about the locations used for Damon's blind pig >>
Read More