Press
TV Guide Spotlights Low Winter Sun; Mark Strong Talks to L.A. Times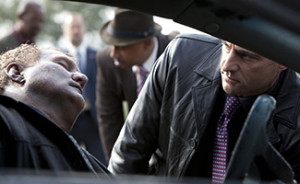 This week, TV Guide catches viewers up on Low Winter Sun, while Mark Strong discusses the show with the Los Angeles Times. Plus, Lennie James speaks with Access Hollywood. Read on for more:
• TV Guide showcases Low Winter Sun, catching viewers up on what's happened so far and extracting a promise from Chris Mundy that all of the season's mysteries will be solved by the finale.
• In a Q&A with the Los Angeles Times, Mark Strong talks about how Low Winter Sun has changed from the U.K. version to the U.S. version: "It's as if you've taken and just blown it up and just made it larger and more intense."
• Lennie James tells Access Hollywood he's grateful that Low Winter Sun airs right after Breaking Bad.
• Deadline Detroit interviews a Detroit Police Investigator and consultant to Low Winter Sun, Ira Todd, who says he wanted to show the drama's creators that there's "an underclass of people that are good people but just happen to be stuck in this city."

• The Brisbane Times gives Low Winter Sun a positive review, calling it "a really nicely twisted cop show."
• Previewing Low Winter Sun for The Queensland Times, Mark Strong says most of the show is "psychological fallout" from the first ten minutes of the series.
• Ahead of Low Winter Sun's Australian debut, Lennie James tells The West Australian about the drama's "symbiotic relationship" with the city of Detroit.
• Ruben Santiago-Hudson speaks with The Huffington Post about launching August Wilson's American Century Cycle in conjunction with New York's WNYC and WQXR.
• For recaps and reviews of Season 1, Episode 3, "No Rounds," check out Celeb Dirty Laundry, Deadline Detroit, Television Without Pity, TV Equals and TV Fanatic.
• To stay up-to-date with all the latest Low Winter Sun news, sign up for the weekly The Lowdown.
Read More