Interviews
Q&A – James Ransone (Damon Callis)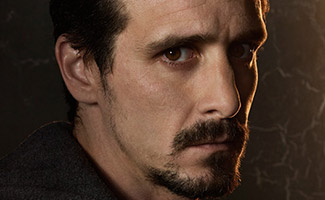 James Ransone, who plays Damon Callis on AMC's Low Winter Sun, discusses what attracted him to the role, his sense of adventure, and why he doesn't like to watch himself act.

Q: What did you know about Damon going into Low Winter Sun and what attracted you to the role?
A: When I went into it, I liked the idea that we're trying to create this blue collar, industrial group of people in Detroit. And there's this Shakespearean element of Macbeth between Maya and Damon. That's what I really liked about it, too.
Q: Do enjoy playing streetwise characters?
A: I don't think I get to pick and choose what I enjoy. It's more like my personality and who I am goes in behind those streetwise characters. I'm not going to say I'm really streetwise, but I might be more than most people. It's a part of who I am, so it's become easier for me to do.
Q: You've previously acted on several TV series.  Have you worked with anyone from Low Winter Sun before?
A: Billy Lush (Nick Paflas) and I were in Generation Kill together. Not only that, we were in the same Humvee together, eight hours a day for seven months straight. It's a total coincidence that we're on the same show again. We also ended up living together while we were shooting in Detroit — that was not a coincidence.
Q: Did you watch Low Winter Sun when it premiered?
A: No. I don't watch anything I'm in. I don't ever because I feel it will screw up my next job — I'll get in there, and I'll pick it apart to the point where every little action I do, I'll end up beating myself up. It will turn into this out-of-control shame spiral that there's no turning back from, like whether I'm too short, or whether I'm too thin, or that my teeth are messed up — I'm like, "Why did you start smoking when you were too young?"
Q: In Episode 2, Damon's friends don't want to move more drugs, while Damon and Maya are pushing them to find new markets to sell them. Are you typically the guy urging restraint with your friends or the one pushing everyone to go further?
A: I do sort of do try to push everyone further. Just this morning, I was making breakfast at my house and trying to force some people to eat bacon, so I guess that's sort of similar. But I don't like telling people to do something they don't want to do. In my twenties, I was a huge, insane risk-taker. Now I tend to play it a bit more conservatively. I still have a pretty good sense of adventure, though.
VIDEO: Inside Episode 2, "The Goat Rodeo"
Q: You've previously spoken about going on weekend adventures around southern Africa during breaks from filming Generation Kill in Namibia. Did you explore Detroit while filming Low Winter Sun?
A: Around Detroit, I explored a bit of the old Packard plant, and of course some other ruins. I looked at them as almost like the Roman Coliseum. I also went to the Upper Peninsula of Michigan and went hiking through the woods by myself for two days. And then I went to an Indian reservation and watched some fireworks.
Q: Love the backyard barbecue scene from Episode 2.
A: That whole scene at Reverend Lowdown's house was really beautiful. I really have to hand it to (Director) Ernest Dickerson for creating that weird ethereal world that they walk through.
Q: When was the last time you were at a party like that?
A: It's been a while, man.
Click here to read an interview with Lennie James, who plays Detective Joe Geddes
Read More