Uncategorized
Q&A – Bettye LaVette (Main Title Theme Writer/Performer)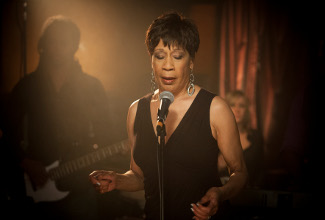 The legendary Bettye LaVette, who co-wrote and performs the main title theme song for AMC's Low Winter Sun, talks about filming her cameo in the opening credits, her Detroit roots, and capturing the feeling of the city in song.
You're an R&B legend who got your start in Detroit. How did you react to being asked to do the theme song for Low Winter Sun? 
I don't get a chance to do things that excite me very much at this point in my career. I think this is the most interesting thing I've done since learning to tap dance in 1979. It was unusual and exciting and not what I normally would do.
Is the theme song an original song? What was the process of writing it like?
This particular song was based on one of the songs from one of my albums, and the feeling of the song was what the production wanted. They weren't able to get the licensing for the song I'd already recorded, so they started from scratch and then when they sent it to me, I had to put words into my own mouth.
What is the feeling they were after exactly?
They were going for a feeling about Detroit. I actually knew how it felt to hustle in Detroit or be in situations in Detroit. I had feelings about being depressed, and I know how it felt to be there and have the factories close, so I was able to speak to that.
Was it fun filming the scene? How many takes did you have to do?
They didn't want me to pantomime it; they wanted me to actually sing it. But it's just impossible because I only weigh about 116 or 117 pounds, so it's impossible for me to sing something 20 or 30 times. I just stopped singing it when I felt like I couldn't sing it anymore. You always have to remember that I'm the oldest person there, so I can press for the seniority thing or just say, "I'm just a little old person." [Laughs]
What was the wardrobe and makeup process for the shoot like?
The wardrobe person talked to my husband, who knows all things Bettye. He told her what I wear, which is mostly black all the time. When she came in with the clothes, it looked like I'd picked them out myself, and they were kind enough to let me keep all the clothes that I wore on stage. I don't really understand the makeup process, I just think it was important to work with someone who's worked with old people and someone who's worked with dark people.
You were part of the Detroit R&B music scene in the 1960s. Can you tell us one of your fondest memories from your early career?
It was when The 20 Grand [nightclub] was open in Detroit. It was just a marvelous, marvelous place, and it was a place that we all strived to work at. The Supremes and The Temptations went on to be so much bigger than The 20 Grand, but when we first started, that's what we were all striving for.
It's incredible that you were friends with legends like The Supremes and The Temptations.
We were only a few years out of segregation, so we still all went to the same places. There were no really super-rich blacks, so there weren't any places that, just because you had a little money, you could go but we couldn't go. It was a really completely different time.
Did you ever imagine you'd still be singing 50 years later?
I knew that I would sing forever because I'm a good singer. But I never thought at 55 years in they'd come back and give me a couple of Grammy nominations, and let me sing for a President, and let me sing for a television show. There's no way in the world that I possibly could have imagined that. It's totally unbelievable.
What was your favorite thing about growing up in Detroit?
The best thing I remember about living there was everybody had a job. My family worked at General Motors and I'm a General Motors baby. I was a union baby, and there was an order to the city because everybody belonged to one thing or another. All the factories were open. All the nightclubs were open. It was just a really wonderful place to be.
This is your first time appearing in a movie or on TV. Do you have any acting aspirations?
I don't know that I would want to see me holding down a really dramatic role because I would want to do everything the same way that I do my performances on stage. I've never gotten a bad review, and I'd hate for my first one to be for my first performance as an actor.
If they were to make a movie about your life, who would you want to play you?
The rights to my book [A Woman Like Me] have been purchased, and there are going to be several people playing me and I won't be required to be in it at all. I saw Alicia Keys as they were trying to teach her how not to walk like a boy and sit like a boy. They took me through the same process. As the street kids do today, the girls tend to act like the boys in the gang or whatever. I looked at her when she first started and I said, gosh, she reminds me so much of me because I was cute, but I just sat wrong and walked wrong. You have to be a tough chick to make it on the city streets. It started there. I didn't start out in show business.
Buy "Hustlin' (Low Winter Sun Theme)" on iTunes
Learn more about the music from Low Winter Sun
Read More