Press
Mark Strong Discusses Detroit With AP; Canada.com Calls Low Winter Sun "Cracking Good"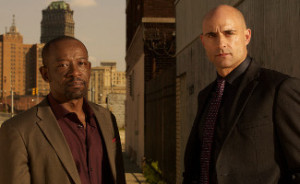 This week, Mark Strong talks about Low Winter Sun with the Associated Press and Collider.com, while Canada.com calls the drama "cracking good." Plus, Detroit receives critical acclaim for its part in the series. Read on for more:
• Talking to the Associated Press, Mark Strong says what they've found in Detroit is "this amazing place to be able to play out all the psychology of all the characters that have been created."
• Collider.com interviews Mark Strong, who reveals that Episode 4 "suddenly just goes off left field, and it's brilliant."
• Canada.com labels Low Winter Sun "a cracking good crime thriller, and it takes just three minutes for the first jolt."
• The Detroit Free Press reports that the city of Detroit received kudos from critics who watched the Low Winter Sun premiere.

• The Baltimore Sun compares Low Winter Sun to The Wire, asking, " Is Detroit the new Baltimore of quality TV drama?"
• Showrunner Chris Mundy talks about Mark Strong with CableFax: "There's such a deep empathy with him in the way he plays the character, and the way he looks. He conveys so much of that without you having to write a bunch of lines to fill in gaps."
• "With a little luck and strong ratings, Low Winter Sun could be the hit it has all the promise to be," Antenna Free TV says.
• Lennie James tells Channel Guide Magazine that he has "faith that our writers' room has the ability to take our audience places that have the depth and surprise that Breaking Bad has."
• Mark Strong talks to the U.K.'s Press Association about playing the same character again stateside in Low Winter Sun — and bonding with his fellow Brits in the U.S.
• Crime Time Preview, noting the show's U.K. debut date of Aug. 16, says, "the urge to see how Low Winter Sun is going to unfold is pretty irresistible."
• Broadway World reports that David Costabile has joined the cast of The (curious case of the) Watson intelligence, which will be performed on stage in New York this fall.
• For recaps and reviews of the series premiere, check out Baltimore City Paper, CarterMatt.com, Crave Online, the Los Angeles Times, the Miami Herald, the New York Daily News, Television Without Pity, TV.com and TV Equals.
• To stay up-to-date with all the latest Low Winter Sun news, sign up for the weekly Low Winters Sun's The Lowdown.
Read More