Press
Mark Strong Chats With Digital Spy; Detroit Free Press Talks With Ruben Santiago-Hudson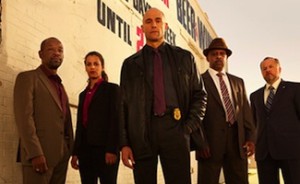 This week, Low Winter Sun's Mark Strong chats with Digital Spy, while the Detroit Free Press talks about Detroit with Ruben Santiago-Hudson. Plus, The Huffington Post honors David Costabile with a mash-up. Read on for more:
• Mark Strong tells Digital Spy that Low Winter Sun's characters "all do things that you would judge them for, but on the other hand you find yourself empathising with them."
• The Detroit Free Press interviews Ruben Santiago-Hudson, who talks about going to graduate school in Detroit and his connection with the city: "To come into Detroit, it seemed like an extension of my family." Santiago-Hudson also did a live chat with the Detroit Free Press.
• Saying, "We love seeing him pop up on TV, and we kind of can't wait to see what he does next," The Huffington Post compiles a mash-up of "The Many Faces of David Costabile" (who's now appearing on Low Winter Sun).

• From The Guardian's review of Low Winter Sun: "You in? I'm in."
• The Dearborn (Mich.) Press & Guide speaks with Low Winter Sun's cast and Chris Mundy about the importance of shooting the show in Detroit.
• Scotland's Daily Record speaks with Mark Strong about switching to an American accent from a "very creditable Edinburgh accent" for the new version of Low Winter Sun.
• Talking to the New Haven Register, Mark Strong says, "The idea that you can resurrect a character seven or eight years later, move him from Edinburgh to Detroit, was too fascinating a creative opportunity." [No Link]
• Entertainment Today says Mark Strong is "what makes this show exceptional."
• For recaps and reviews of Season 1, Episode 2, "The Goat Rodeo," check out Starpulse, Television Without Pity, TV Equals and TV Fanatic.
• To stay up-to-date with all the latest Low Winter Sun news, sign up for the weekly Low Winters Sun's The Lowdown.
Read More