Press
Low Winter Sun TCA Panel Talks Detroit; Mark Strong on Playing Same Character Twice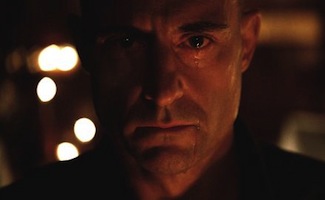 This week, the Low Winter Sun panel at the Television Critics Association summer press tour talks about the importance of Detroit, while Mark Strong discusses playing the same character twice. Plus, Variety tries to decipher the meaning of the show's title. Read on for more:
• At Low Winter Sun's Television Critics Association panel, Lennie James describes Detroit, the show's setting, as "the most dangerous, most exciting, most diverse Western city I've ever been to." Meanwhile, Deadline wonders if Low Winter Sun will do for Detroit what HBO's The Wire did for Baltimore.
• According to CableFAX, Mark Strong talks to the Television Critics Association about playing a character for the second time: "The idea that you can resurrect a character seven or eight years later, move him from Edinburgh to Detroit, was too fascinating a creative opportunity, I think, to let go by."
• Variety asks the cast and crew what "low winter sun" actually means.
• In Rolling Stone, Mark Strong compares his character, Frank Agnew, to Breaking Bad's Walter White and Mad Men's Don Draper because they're "guys trying to do the right thing who find that life is complicated." [No Link]
• MLive gives the series premiere "an 'A' grade for its plot, powerful footage of the city, nonstop action and character development."
• The Detroit Free Press showcases a video of the Low Winter Sun cast and crew discussing Detroit's "evocative role" in the series.
• Lennie James talks to the U.K.'s Press Association about trying to perfect his American accent for Low Winter Sun, calling it "something I've had to work at."
• MLive suggests learning about the drama's cast and characters because Low Winter Sun "could very well end up becoming the most successful Motor City-themed program ever."
• The Detroit Free Press reports that Chris Mundy told an Ann Arbor preview audience that "we want to portray the reality of the story we're telling." AnnArbor.com covered the same event.
• According to MLive, Ruben Santiago-Hudson sings Detroit's praises: "When two-thirds of your population leave, there's trouble. But what they got is the bones, the incredible bones of that city, and they're better (than most cities)."
• To stay up-to-date with all the latest Low Winter Sun news, sign up for the weekly Low Winters Sun's The Lowdown.
Read More