Uncategorized
Detroit: On Location (Low Winter Sun Episode 3)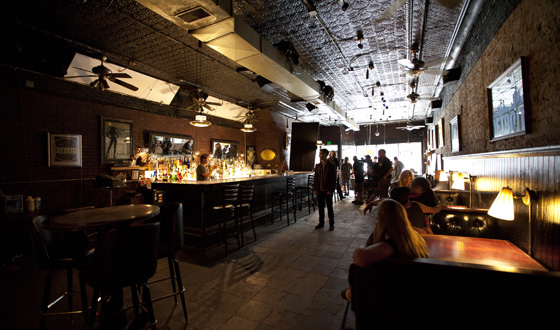 Low Winter Sun Production Designer Ruth Ammon is responsible for scouting the city of Detroit for the series. This week, she discusses the location used for Damon and Maya's bar, The International, seen in Episode 3, "No Rounds."
The International
Location: The Baltimore Bar on Randolph Street, downtown Detroit
Finding the location for The International was far more challenging than any of us expected. In the script it's described as: "A good dive bar. Oak bar. Pool table." We wanted a local neighborhood bar with history, authenticity and no pretense. Windows were important not only for the natural back light, but also because they would allow us to see Greektown in the background — since Skelos collects from all the Greektown shop-owners, we wanted that visual tie-in to be strong.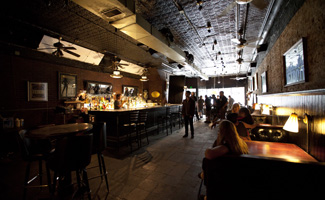 It was literally at the eleventh hour that we found the Baltimore Bar. It was early autumn, and the Tigers were on a winning streak and heading for the playoffs. Every bar was loud and packed with #24 Cabrera jerseys. Producer Charles Carroll and I were visiting one last location in downtown Detroit. So much was right with the bar, but the windows didn't work. Charles left — in defeat, I thought, but minutes later he texted me to walk next door. I entered a dimly lit bar with a large front window: He had found our International Bar. We'd driven past that place so many times without even seeing it.
According to our location manager Tom Moisides, the Baltimore Bar was originally called the Baltimore Lunch, a long-standing sandwich and soda counter. We loved the shotgun effect of the long rectangular space. There is exposed brick on one wall and what looks like vintage fake brick, probably from the 1960s, on the other wall. It has the original high, pressed-tin ceiling of the late 19th century. The bar was not oak, but we fell in love with the reflections that the milk plexiglass top provided.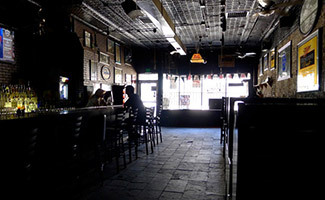 For the exterior scenes, the low-profile front blends into an older commercial district with the Detroit People Mover on one end and downtown Detroit on the other. We include shots of the neighboring decades-old men's suits and clothing shops — The Broadway, J.L. Stone Co. and Seamen's — to provide a real sense of history.
A lot of bars in downtown Detroit are empty all the time, but they fill up when there's a Tigers or a Lions game. What sometimes is an incredibly empty downtown will flood with traffic in a matter of minutes. So we had to organize our shooting schedule around Tigers games. We all had it on our calendars: It's a home game today, it's an away game today. The owners of the bar, Spiros Vamvakas and Hilda Neda, allowed us to leave our set design over the four-month shooting schedule as long as we put the large-screen TVs back between shoots.
View a gallery of Detroit: On Location photos >>
Read the Detroit: On Location column from Episode 2, in which Ruth talks about the location used for the trap house where Damon shot one of Skelos' drug dealers >>
Read More