Uncategorized
Detroit: On Location (Low Winter Sun Episode 2)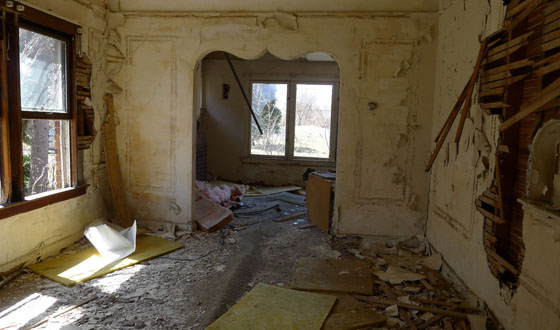 Low Winter Sun Production Designer Ruth Ammon is responsible for scouting the city of Detroit for the series. This week, she discusses the location and neighborhood used for the trap house in Episode 2, "The Goat Rodeo."
The Trap House
Location: Beaconsfield Street in MorningSide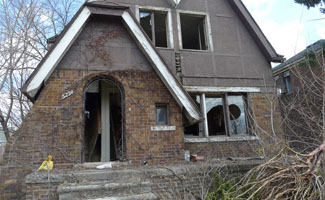 This is one of my favorite finds. It's up the east side, in the neighborhood of MorningSide. I came across the neighborhood during scouting for the first episode, while looking for a location for Frank's house. I would drive all night and drive all day. I just drove everywhere. I had no idea where I was going, and I found this neighborhood with these houses — I call them little Tudor follies. It goes back to that kind of aspirational American dream of the early '30s. You can see it in the architecture: solid brick foundations, multiple high-reaching gables, lawns, backyards, organized neighborhoods. Perhaps these were the homes of middle management for the massive car industry. It was a weary neighborhood with street names like Buckingham, Chatsworth, Devonshire and Yorkshire.
A trap house is a place where dealers store and sell the drugs, and showrunner Chris Mundy had written the trap house scene for an east side house. When it came time to shoot the episode, location manager Tom Moisides helped me find the neighborhood again. Experiencing that drive along Southhampton Street, then turning onto Beaconsfield was haunting. It was so desolate and brown. There were are all these lovely homes abandoned. It's heartbreaking. We had to be somewhat careful because of the wild dogs. I never felt like I was in danger, I just felt like I had to be aware.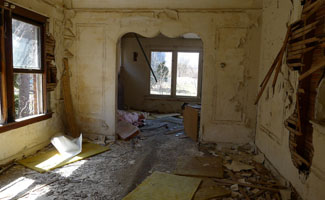 We chose this house because of the facade and where it was positioned on the street. It was slightly away from the large old trees, with an empty lot on one side and large, multi-gabled brick homes on the other. Inside there was a sweetheart archway between the living room and dining room, where Billy the drug dealer is killed in the Pilot. The plaster was ripped out where there had been copper plumbing and wiring. Scrapping is a big phenomenon in Detroit — we didn't have to recreate that, though we replaced all the dangerous debris on the floor with soft and safe debris for the stunt work. We added a door and some vintage furniture to suggest the family that may have lived there. The idea for the lineup of small liquor bottles along the fireplace mantle came from another house on the block, perhaps a real trap house.
Over the course of the series, going back to the trap house presented some issues. With spring came a beautiful canopy of green that was not there in April, which is when our first day of shooting took place. The few homeowners on the block tended to their lawns carefully. Mostly, though, the street grew wild and lush green and our trap house became consumed with ivy.
The neighbors we met were kind and helpful. Once we inadvertently boarded up a neighbor's house who had been away on vacation (lock-up, to be exact). After being gone for nine months, his home was looted by scrappers. Our location team gave him a ride to his girlfriend's home. It's heartbreaking, but pride still exists.
View additional photos of the trap house >>
Read the Detroit: On Location column from Episode 1, in which Ruth talks about the locations used for Detroit Police Headquarters >>
Read More